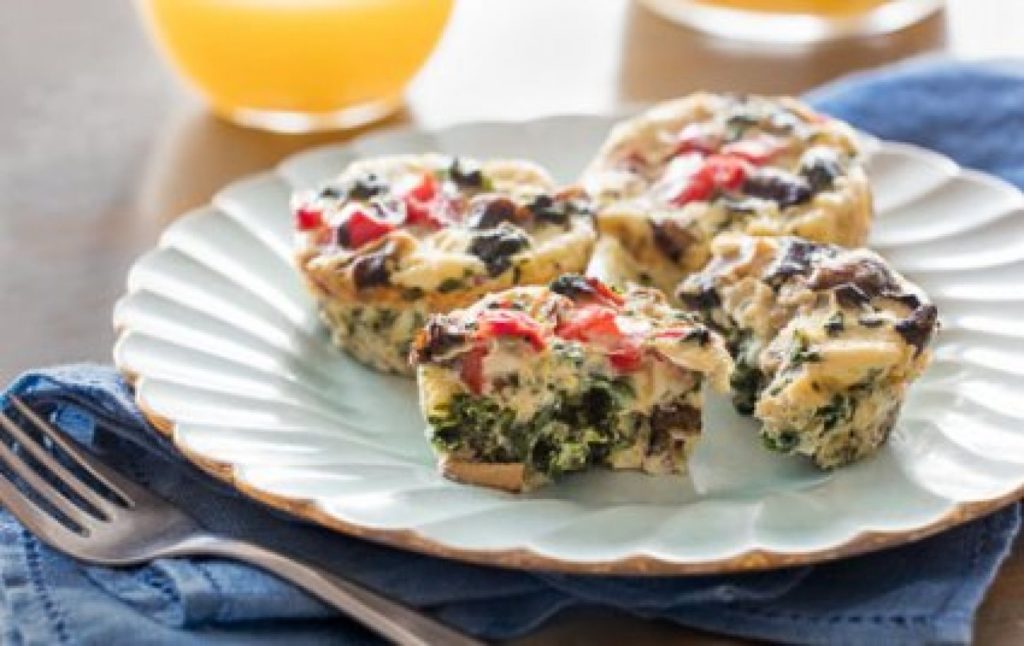 These high-protein treats are ideal for on-the-go breakfasts or early-morning tailgating. You can assemble them in the muffin pan the night before and refrigerate, then bake in the morning. To vary the recipe, mix in diced ham, olives, fresh herbs or a pinch of cayenne pepper, and top with a sprinkle of cheese before baking.
About
Ingredients:
1/2 pound button or cremini mushrooms, finely chopped
1/2 red or orange bell pepper, diced
1/2 pound frozen spinach, thawed, drained and chopped
1/2 teaspoon fine sea salt, divided
2 cups pasteurized egg whites or 16 egg whites
Method:
Preheat the oven to 375˚F. Lightly oil a 12-cup muffin pan.
Heat a large skillet over medium heat. Cook mushrooms, stirring, until they begin to release their liquid, about 5 minutes. Add bell pepper and cook, stirring, 3 to 4 minutes more. Add spinach and 1/4 teaspoon of the salt and cook, stirring frequently, until vegetables are soft and most liquid has evaporated, about 5 minutes. Cool slightly, then divide mixture among the prepared muffin cups.
In a medium bowl, whisk together egg whites and remaining 1/4 teaspoon salt. Pour evenly over vegetable mixture in the muffin cups. Bake until egg mixture is puffed and cooked through, about 16 minutes. Cool 2 minutes, then run a knife around inside of muffin cups and remove omelet bites. Serve warm or at room temperature. Alternatively, refrigerate omelet bites in an airtight container for up to 3 days. Cover the bites with a paper towel and reheat in the microwave. https://7splay.com
Nutritional Info:
Per Serving: Serving size: 2 bites, 70 calories (5 from fat), 370mg sodium, 4g carbohydrates, (2 gdietary fiber, 2g sugar), 12g protein.