Made with dark, fair-trade chocolate—60% cacao— these bars contains fruits, veggies, and superfoods.  Smooth, rich, and slightly sweet, these bars are as delicious as they are nutritious.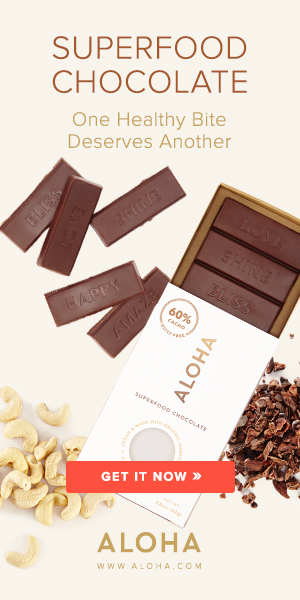 Enjoy 50% off ALOHA chocolates with code FREECHOCOAFF on orders of $68+
What goes good with ALOHA Chocolate Protein and Trail Mix? How about 25% off each of these products? Now through March 31st.
Offer: 25% off Chocolate Protein Tins
Valid: Now – 3/31
Code: 25OFFPROTEIN
ALOHA Chocolate Protein is flavored with fair-trade organic cacao from a co-op in the Dominican Republic and lightly sweetened with organic coconut sugar. 14 servings, each with 18g plant-based protein. Delicious wild-harvested vanilla and fair-trade organic cacao blends. 100% free of harsh chemicals, fillers, artificial sweeteners, and "natural" flavors.
Offer: 25% off Trail Mix
Valid: Now – 3/31
Code: 25OFFMIX
ALOHA Trail Mix is a balanced blend of cashews, goji berries, and pistachios, making this one powerful superfood mix that's both nourishing and energizing.
Peanut Butter & Whiskey Protein Cupcakes
Every year, at least half of the month of March is overrun with green. And trust me, I participate! However, this recipe feels just as appropriate for the weeks of Irish-themed celebrating. Ireland loves its whiskey—it's not just a stereotype. And after you try this recipe, so will you! The whiskey adds some serious flavor and pairs so well with the peanut butter and chocolate. Please note, the alcohol burns off from the cake, but this is definitely 21-and-over frosting. Grab your ID and make these for your St. Patty's Day festivities!
Whiskey Protein Cake
1 1/2 cups all-purpose gluten-free flour
1 teaspoon vanilla extract
1 1/2 teaspoons baking powder
1/2 teaspoon salt
2 tablespoons Stevia*
2 to 3 tablespoons honey or sweetener of choice, adjust to desired sweetness
2 eggs
1 cup almond milk
1/4 cup coconut butter
1 tablespoon cocoa powder
1/2 cup peanut butter, or nut butter of choice
1 1/2 shots whiskey of choice (we suggest Jameson for the month of March)
Peanut Butter Whiskey Frosting 
1/2 cup peanut butter, or nut butter of choice
1 shot whiskey of choice (again, try to keep it Irish)
1 tablespoon powdered Stevia*
1 tablespoon honey or sweetener of choice, adjust to desired sweetness
1/4 cup coconut yogurt
1/4 cup coconut butter
Optional: 1/4 cup chopped nuts of choice, for garnish
*Stevia is not mandatory—feel free to use honey or the sweetener of your choice.
Preparation
1. Preheat your oven to 375°F. Line a muffin tin with muffin cups or grease with the oil of your choice.
2. In a medium bowl, blend all of the dry ingredients. Then add in the milk, vanilla, nut butter, and honey. Mix well. Soften the coconut butter, if needed, by lightly heating it on your stove in a small saucepan, or in your microwave for 30 seconds. Mix the softened coconut butter, eggs, and whiskey into your batter. Blend until you have a smooth and seamless consistency.
3. Fill your muffin cups or greased muffin tin with the batter—about three tablespoons each. Bake for 15 minutes.
4. For the frosting, mix all of the ingredients together in a medium bowl. Spread the frosting over the cupcakes once they have cooled (10 minutes after taking them out of the oven). Garnish with the chopped nuts, if you fancy. Enjoy immediately or store in an airtight container in your refrigerator for up to a week.