Nearly 85% of women say they find men who can cook unbelievably sexy

60% say their husbands don't cook at all

Eating in a sensual manner is a weapon of seduction according to majority of women surveyed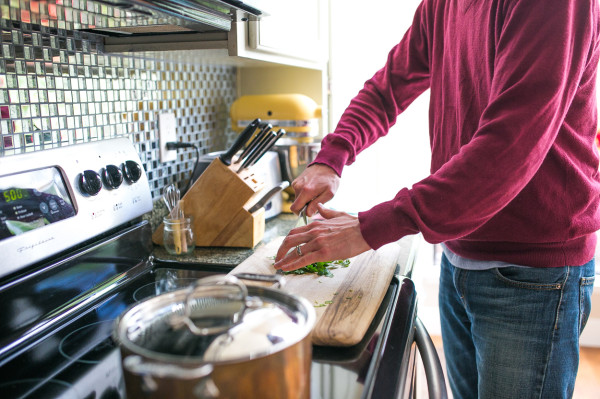 The recipe for a great love affair is found in the kitchen, according to a revealing new survey – and it seems the way to a cheating woman's bed is through her stomach.
Victoria Milan – a dating website for married and attached people looking to cheat – asked 2,854 of its cheating female members whether they like a man who is good in the kitchen as well as the bedroom, and why.
Almost 7 in every 10 women say they prefer a lover who knows how to tantalize her taste buds by cooking up a storm – a change to their home life where only 40% say their husband puts some effort in when it comes to preparing meals.
The number one reason women prefer their lovers to cook is very basic: nearly 85% say they just find it downright sexy. 63% say they like a man with a more equal approach and who doesn't view cooking as a task for women. More than 50% say they like the opportunity to taste and try new cuisines.
Only 19% said they prefer men who cook because it leads to romantic, intimate settings at home, where no one can see them.
When dinner is served, eating in a sensual manner becomes a weapon of seduction: three-quarters of cheating women said they think eating can look very sexy, and play with their food when their lover cooks for them.
Founder and CEO for Victoria Milan, Sigurd Vedal, said it's no secret that food often plays a role in developing relationships, and heightens attraction, but generally people assume women are feeding men.
"This survey has put a twist on the old saying – 'the way to a man's heart is through his stomach'. Now cheating women have revealed the way to a woman's bed is through her taste buds. Delicious meals have long played a role in seduction, however now we see that it goes both ways," Mr Vedal said.
SURVEY DATA
2,854 members of Victoria Milan polled
Does your husband cook?
Yes – 41%
No – 59%
Do you prefer a lover who knows how to cook?
Yes, preferably – 69%
No, it doesn't matter to me – 31%
If yes, why? (multiple answer)
Gastronomy and cooking can be a good conversation starter – 34%
Cooking is very sexy – it turns me on – 84%
You learn about different cuisines and tastes – 55%
It's more equal – men who cook don't view it as a woman's task – 63%
I love romantic dinners inside where no one can see us, and if he's the one cooking – it's even better! – 19%
When he cooks for you, do you use the way you eat as a weapon of seduction?
Yes, you can look really sexy with the way you eat – 76%
No, I don't find eating sexy at all – 24%