Join Ben's Bells to celebrate kindness at their biggest fundraising event of the year! The evening will include live entertainment, food, drink, and a live and silent auction. Enjoy all of this while supporting kindness education and studio programming. We are also excited to announce that our Founder, Jeannette Maré, will join as a special guest as she makes her return to CT after several years.
Celebration of Kindness Day
Thursday May 25th, 2023
6:00-9:00 PM
Reverie Brewing Company
57B Church Hill Road, Newtown, CT 06806
Tickets are $75 for Adults, $1 for Children 18 yrs old and younger. Food for the event will be provided by FLIK Independent School Dining and will feature a "Smok'd Food Truck". In addition to a great meal, each guest will receive two free beverages from Reverie's large craft beer selection. Soft drinks and water will also be available at no charge.
The event will feature live music from the popular band, ODDFELLAS, out of Stratford, CT. Guests can also enjoy various outdoor games including the dual hoop zone donated by Super Fun Inflatables.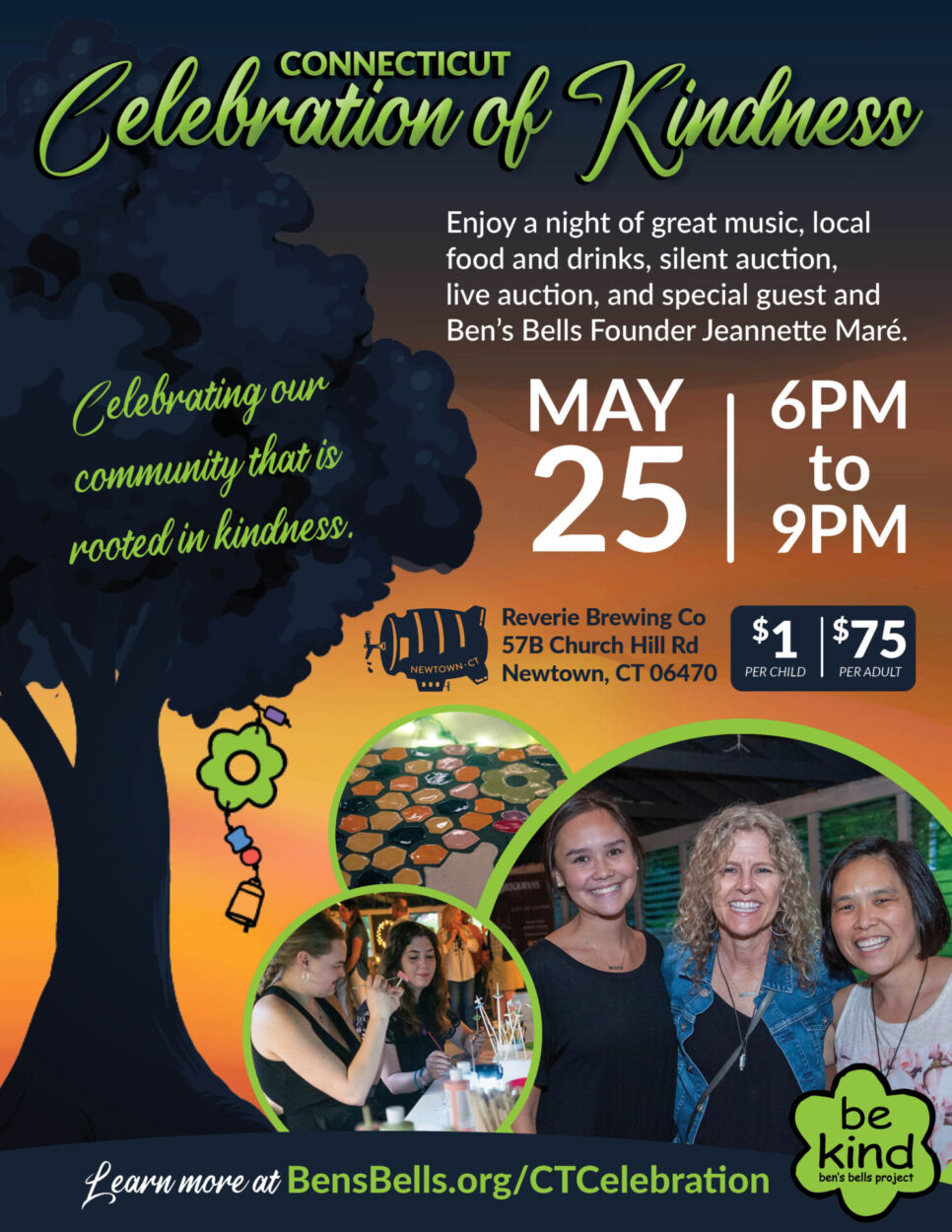 The live and silent auctions are among the event highlights and include incredible local art and other gifts and services. The hottest and most exclusive items of the evening are Ben's Bells mosaic benches – available ONLY at the Celebration of Kindness each year. Also returning to the silent auction are mosaic stepping stones designed and built by Ben's Bells amazing volunteers!
A special Shop KIND pop-up shop will be open for all of your KIND shopping needs. Special to Celebration of Kindness, 30 limited edition necklaces designed by local Newtown artist, Dave Brooker, will be available for purchase.
We also look forward to presenting our Kind Campus Award to Ella Makowski, representing Watertown High School, and our Kind Colleague Award to Eva Aveiga, President and Founder of Miss and Teen Danbury, CT.
Celebration of Kindness Connecticut is brought to you by our Title Sponsor, FLIK Independent School Dining, and the following sponsors: Nuvance Health, Preusser Research Group (PRG), Newtown Center Pediatrics, Ventura Law, The Mello Family, Stockwell Agency- Allstate Insurance, Rings End, The Toy Tree, Dental Associates of Connecticut, and Ingersoll Auto of Danbury.
The mission of Ben's Bells is to inspire, educate, and motivate people to realize the impact of intentional kindness, and to empower individuals to act according to that awareness, thereby strengthening ourselves, our relationships and our communities.
For more information about Ben's Bells visit www.bensbells.org.