Cannabidiol (CBD) oil is extracted from the Cannabis Sativa plant. It's believed that you can use it to treat several body illnesses. The advantage of CBD is that it doesn't have the same effects as tetrahydrocannabinol (THC), which is a substance that makes users have a psychoactive feeling and often referred to as being 'high.' As a result, your body can benefit from the medicinal value of CBD oil, such as relieving body pain and other ailments.
To make CBD oil, you should extract CBD from cannabis plants and mix it with a carrier oil, such as hemp seed oil or coconut oil. CBD can be sold in different products, like gummies, tinctures (CBD drops), capsules and soft gels, topicals, and pet treats.
If there are no CBD products in your nearest mall, you can purchase them from online stores, such as naturesarcorganics.com. However, because there isn't a lot of information out there concerning CBD products, many people are yet to embrace them fully.
Therefore, this article gives you some of the uses, benefits, and side effects of CBD oil.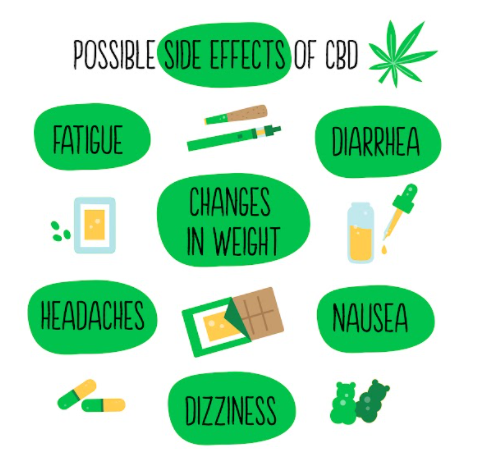 Uses And Benefits of CBD Oil
May Reduce Depression and Anxiety
It's believed that anxiety and depression are on the rise, especially during the COVID-19 pandemic season. Mental illnesses have adverse impacts on the well-being and health of the affected person.
When this condition worsens, it may result in withdrawal from people and, in some instances, suicide. It's thought that the drugs used to treat depression and anxiety may cause side effects, such as insomnia, drowsiness, sexual dysfunction, agitation, and headache.
On the other hand, you may use CBD to treat anxiety and depression, which might have no adverse side effects because of its natural nature. Some doctors may recommend CBD to safely treat anxiety and insomnia to children who might have suffered from post-traumatic stress disorder (PTSD).
Might Reduce Acne
Acne may be caused by bacteria, genetics, production of excess sebum, and underlying inflammation. If you're experiencing acne on your skin, using CBD oil may help in reducing its effects because of CBD's anti-inflammatory properties and ability to lower sebum production.
Additionally, for individuals suffering from various types of acne, your medical health care may recommend the application of CBD on your body because its antibacterial property helps in eliminating the acne-causing bacteria.
Could Improve Heart Health
CBD is linked to several heart benefits and the circulatory system. It may also help in lowering high blood pressure. High blood pressure could cause heart attack, stroke, and metabolic syndrome. Therefore, consuming CBD prescriptions may help reduce stress and anxiety, which might lower blood pressure.
Moreover, it's believed that CBD may help reduce your heart's cell death and inflammation which is associated with heart diseases due to its ability to act as an antioxidant and stress-reliever.
May Have Neuroprotective Benefits
CBD may influence the endocannabinoid system and other brain signal systems in individuals suffering from neurological disorders. Treating brain disorders, like multiple sclerosis and epilepsy, is one of the areas that doctors have committed a lot of time in doing research.
Individuals having multiple sclerosis may be advised to use an oral spray containing CBD, which might help in reducing muscle spasticity. CBD oil may also reduce the rate of spasms for multiple sclerosis patients. Additionally, it could significantly lower seizure activity rates when it comes to children having Dravet syndrome, which is an epilepsy disorder that mainly affects children.
Side Effects of CBD Oil
One of the prevalent side effects caused by CBD is drowsiness and sedation. Even though the effects might not be too strong, mixing it with other sedating drugs may increase drowsiness.
This condition is also called 'cotton mouth' and may cause your eyes and mouth to become dry. However, it's more common with THC, though CBD is linked to some level of the condition.
In some instances, especially when CBD is ingested, it might cause a feeling of nausea. However, this depends on how your body is sensitive and reactive to the chemical and also the amount of CBD you take into your body.
This is an effect that might cause diarrhea and liver problems after using CBD. However, this depends on your medical history. As a result, individuals with prior liver and diarrhea problems may seek advice from their doctors before using CBD products.
Hyperreaction With Other Medication
If you're under other types of medication, you need to talk to your doctor first before taking CBD oil. For instance, if your prescription is causing drowsiness, adding CBD may worsen the situation.
Though more research is required here, CBD oil is thought to have adverse effects and should be avoided by pregnant and breastfeeding women. This is because it might pose potential risks in the development of the child.
Conclusion
CBD is a natural product that is believed to have several medicinal benefits. However, before you start using CBD oil, gummies, tinctures (CBD drops), capsules and soft gels, and topicals, you may need to seek advice from your healthcare provider, especially if you have a history of medical problems.
Besides this, using CBD oil may offer you the benefits listed in this article. On the contrary, if you experience the above side effects, ask your doctor if CBD oil is still safe.