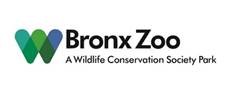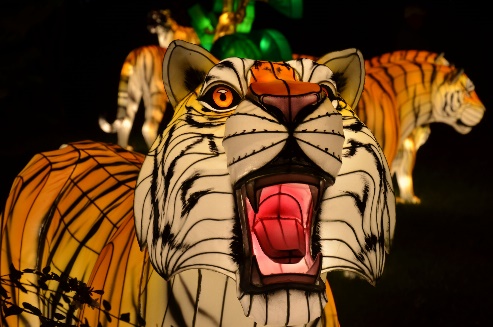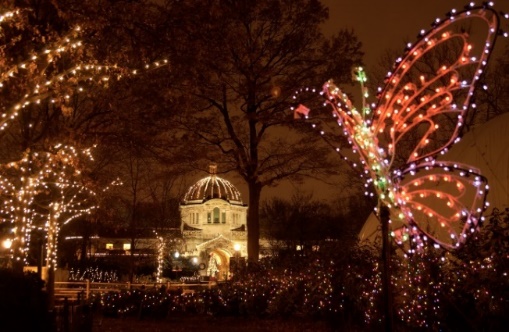 Lights from 2007 Bronx Zoo Holiday Lights. Lanterns are samples depicting the 2019 Holiday Lights.
Bronx Zoo Holiday Lights Returns in 2019
Bigger, Brighter and Greener – Holiday Celebration to Light Up the Bronx
from November 21 to January 5
Bronx Zoo Holiday Lights is sponsored by Con Edison
  As one of New York City's greatest holiday traditions and for the first time since 2007, the Bronx Zoo Holiday Lights will return in 2019 during the most festive time of the year with dazzling light displays that will cover and sparkle acres of the zoo. Visitors will be able to walk-through the zoo to experience wildlife-themed LED displays, custom Asian lanterns, animated light shows on the historic Astor Court and more.
"We are bringing an updated version of a beloved holiday tradition back to the Bronx Zoo for the first time since 2007," said John F. Calvelli, WCS Executive Vice President of Public Affairs. "The LED lights, animal-themed lanterns, and animated light shows will be set amongst the historic buildings on an expanded footprint that will take people throughout the zoo. The LED technology will also allow us to be incredibly energy efficient. We believe our visitors will come away really enjoying this 'green' holiday experience!"
Visitors can celebrate the holiday season with an enchanting adventure to warm up the entire family. Festivities will include:
The Ice Jubilee at the Bronx Zoo Includes an Ice Bar, Ice Throne & Ice Slide (December 21 to 31) – Holiday revelers will be able to take festive photo ops on the ice throne, where ice kings and queens can take their seat on an oversized throne made completely of ice, as well as breaking out your inner penguin and slide down a 20-foot ice slide. Visitors can also grab a specialty cocktail at the zoo's 12-foot ice bar which will be available for purchase during Holiday Lights operating hours.
Nightly Ice Carving Demonstrations (Ongoing) – Throughout Holiday Lights from 5 to 9 pm, professional ice carvers will debut their talents as they use chainsaws and chisels to carve holiday and animal-themed sculptures with a live audience. All finished sculptures will be on display throughout the Dancing Crane Plaza.
Ice Carving Competition (December 28) – On Saturday, December 28 from 6 to 9 pm, the zoo will take ice carving to the next level when five professional ice sculptures will create 20 sculptures in an elimination style "speed carving" format over a three-hour period. This format is ideal for spectators to witness carvings formed in less than 30 minutes before their eyes. The competition will be emceed by an experienced carver to entertain the crowd and provide fun facts, as well as facilitating spectator participation. Visitors can also get involved in the carving judging. The 20 new sculptures will be displayed for future viewing.
Carolers, Characters, Train Rides & Lantern Safari – Visitors will be able to enjoy classic and modern holiday tunes sung by Victorian-dressed live carolers throughout the zoo, as well as taking photos with some of the zoo's seasonal characters including lions, giraffes, gorillas, penguins and a friendly snowman. Families can also take a journey "around the world" along a dedicated section of the park that will be illuminated by hand-created lantern sculptures, while also learning about the work WCS scientists are doing to help save various species. Train rides will also be available for the whole family at Astor Court.
Bronx Zoo Holiday Lights is sponsored by Con Edison.
Tickets for the Bronx Zoo Holiday Lights are priced at $29.95 for adults, $22.95 for children, and $28.95 for seniors.
Hours for Holiday Lights will be 5 to 9 pm Sunday to Thursday, and 5 to 10 pm Friday and Saturday.
Holiday Lights will be closed on December 24. The Bronx Zoo and Holiday Lights will be closed on December 25 and January 1.
For tickets and more information, visit www.BronxZoo.com.
About the Bronx Zoo: The Bronx Zoo, located on 265 acres of hardwood forest in Bronx, NY, opened on Nov. 8, 1899. It is world-renowned for its leadership in the areas of animal welfare, husbandry, veterinarian care, education, science and conservation. The zoo is accredited by the Association of Zoos and Aquariums (AZA) and is the flagship park of the Wildlife Conservation Society (WCS) which manages the world's largest network of urban wildlife parks including the Bronx Zoo, Central Park Zoo, Prospect Park Zoo, Queens Zoo and New York Aquarium. Our curators and animal care staff work to save, propagate, and sustain populations of threatened and endangered species. We have educated and inspired more than 400 million visitors at our zoos and aquarium since our opening and host approximately 4 million guests at our parks each year – including about a half-million students annually. The Bronx Zoo is the largest youth employer in the borough of the Bronx, providing opportunity and helping to transform lives in one of the most under-served communities in the nation. The Bronx Zoo is the subject of THE ZOO, a docu-series aired world-wide on Animal Planet. For more information, visit www.BronxZoo.com.