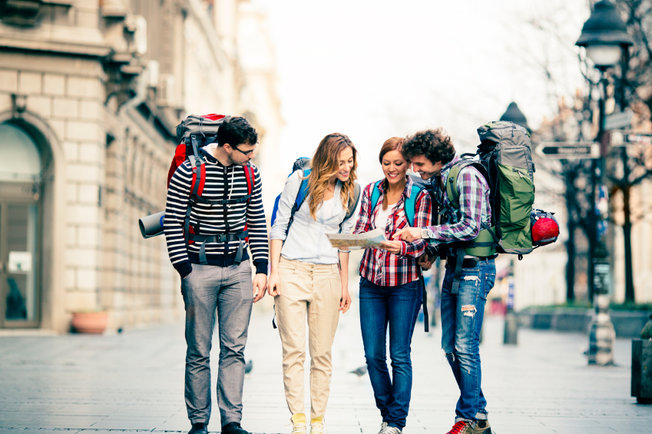 Think you're ready for that trip of a lifetime? Whether its study abroad, an international internship, work experience overseas, or just a well-deserved beach session on some exotic island, the amount of preparation you do before getting on the plane will make a big difference in your experience.
Take the extra time now to prepare and plan, so you can maximize your time abroad. Wandering through side streets and munching on local delicacies sounds like a lot more fun than worrying about why your phone won't connect to a foreign network. To help you get prepared, here's a checklist of things to keep in mind before heading to the airport:
Get a passport
Before you can start collecting colorful stamps from all over the world, you need somewhere to put them first. Start your passport applications several months before your flight date, especially if you need visas from foreign embassies. While the passport process is usually pretty simple, sometimes bureaucratic matters get in the way and cause everything to take much longer than you thought.
Most likely, you will need to apply in person at your local passport agency. Be prepared to provide proof of citizenship, an extra form of identity, and recent document photos. Check your local office for specific requirements before you head in to fill out that application!
As soon as you receive your passport, make a couple of copies of the front page. Take one copy with you when you travel, and leave another copy with someone you trust back home. Worst case scenario, if your passport gets stolen, this will help you out a lot.
Get any necessary visas
Visa specifics vary for every country, but the bottom line is the same: it's tedious and it takes a while. Do some research and find out if your country of destination requires a visa. If so, what kind of visa will you need? Sixty percent of the world's countries require visas for any length of stay, most of these as a regular visitor's visa.
However, if you will be studying or interning for more than a short semester, you might have to sign up for a student visa. If you are planning to work, you will need a work visa (though you may be able to work abroad without a visa, too).
Find out how to communicate with home
Even if you're going on a trip to get away from it all, it's always good to know your options to get in touch with friends and family back home (for when you do end up in that dentist chair or get that unwanted mosquito bite). Plus, it's nice to call and tell Mom and Pop that you made it to the other side of the ocean.
Pack
You won't need make-up in Nepal, your blow dryer won't work in Madrid, you'll probably never use your baseball glove in Botswana, and you can buy cheap sweaters in Ecuador. Pack light! Research your destination in advance, find out what kind of items you must bring. For example, mosquito netting or tampons or screen tent for camping on mountains and find out what items you can purchase cheaply there. Leave extra space in your luggage for souvenirs!
Get insured
Whether its health security, baggage protection, or travel insurance, make sure that you are covered while abroad. If you are traveling with an organized program, these usually offer you the option of buying an insurance package; if you do not have your own international coverage, these are great options.
Develop a budget
This is particularly helpful if you will be spending extended time abroad with a study or volunteer program. Research the cost of living in that particular country, and see where your expenses will go every month: accommodation, food, transportation, entertainment. If you are merely taking a personal trip, make an educated guess about how much you will be spending on hotels, excursions, dinners out, etc.
Regardless, be realistic about the expenses and take more money with you than you think you will use. Not only because sometimes two glasses of vino verdhe will turn into three, but emergencies and unexpected opportunities always arise. Be prepared.
This is a guest article written by Elizabeth from www.thehomemakersjournal.com She is work a holic mom who loves to write about parenting, food, DIY, activities, traveling etc. on her blog.