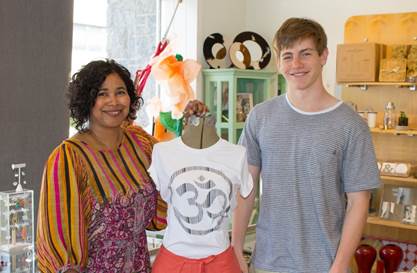 Located at 337 E. Main Street, Mount Kisco, Beehive specializes in stylishly handmade products by independent designers including jewelry, accessories, apparel, baby & kids, bath & body and home decor. Monogramming and custom work is available.
This summer, Horace Greeley High School student Scott Silver is flexing his creative muscles at the Beehive Designer Collective in Mount Kisco. With the help of Beehive owner Dawn-Marie Manwaring, Silver, 17, of Chappaqua, created his own t-shirt design, which is now being sold at the co-op boutique for $28.
After suffering multiple sports injuries, Silver decided to try something new by delving into the world of graphic design. Completely self-taught in less than six months, Silver began honing his skills by answering online requests for logo and shirt designs from companies across the country. He approached Manwaring in early July, looking for a local outlet to help him produce and distribute his work.
Manwaring and another Beehive artist helped mentor Silver in the basics of retail, including how to choose a manufacturer and understanding wholesale versus retail pricing. Within two weeks of approaching Beehive, Silver's t-shirts were on the shelf and ready to be sold.
Silver's t-shirts feature the "Om" symbol, a sacred Hindu syllable with importance to the practice of meditation. "I've always been interested in Hindu and Buddhist culture," Silver said. "The shirt design gives a modern feel to this classic symbol."
Manwaring says sales of the shirts are increasing – she's even shipping one to Hawaii – and requests for new colors keep coming in. "This is a great testing ground for Scott to understand what the customer wants," Manwaring said. "We support his creativity and entrepreneurial spirit and welcome other young artists to the Beehive who may want to do the same."
The rising Horace Greeley senior is already thinking ahead to college, where he plans to continue pursuing his passion by studying graphic design or engineering when he enters in fall 2015.
For more information, like Beehive on Facebook, visit www.beehivemtkisco.com or call 914-218-8700.