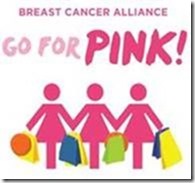 GO FOR PINK is a series of events Breast Cancer Alliance (BCA) dedicates to October's Breast Cancer Awareness Month.
On October 6th, GO FOR PINK will bring the local community together for a special day of shopping and events in the Town of Greenwich to raise awareness and critical funds of eradicating breast cancer and to further support BCA's mission: the funding of innovative research, education, support and affordable screening for all women.
Many merchants will be generously donating a portion of their sales to BCA on October 6th and some will be extending their donation throughout October with both in-store and online sales.
Educational and inspiring talks will be offered to the community during the day with Dr. Barbara Ward, Medical Director of the Breast Center at Greenwich Hospital at a breakfast at Richards; and with Geralyn Lucas, author and breast cancer survivor who will have a talk and book signing for "Then Came Life" at a cocktail party at Terra Ristorante. Terra has also planned a special prix-fixe dinner/wine pairing to celebrate their 25th anniversary that day which will benefit BCA.
The BCA flag raising ceremony will begin the day on October 6th led by First Selectman, Peter Tesei at Greenwich Town Hall.
It is a great day to spend with friends and family to shop, sip and support with our local merchants partnering with BCA and rallying around improving breast cancer survivor rates, prevention and quality of life while working towards the goal of a cure.
WHEN:            Thursday, October 6, 2016
Online shopping with some merchants will be offered throughout the month of October at BCAGOFORPINK.ORG (with code: BCA16)
WHERE:          Town of Greenwich, CT
WHAT:            Shopping and events dedicated to Breast Cancer Awareness Month that bring the Greenwich community together to raise awareness and funds to support BCA
PARTICIPATION:                             
Participating stores and locations will be updated and listed at BCAGOFORPINK.ORG
2016 PARTNERS (as of 9/1/2016)
ALICE + OLIVIA,ALL-SPORTS APPAREL, ANNABELLE'S, COLLECTION*, ANNE FONTAINE, ARTHUR MURRAY GRANDE BALLROOM*, ATHLETA, BECKER SALON, BETTERIDGE*, BISTRO V, BROOKS BROTHERS, CALYPSO ST. BARTH, CARLISLE, CLAUDETTE, COHO USA*,COPIOUS ROW, COURAGE B, DAKOR, DUXIANA, EILEEN FISHER, FRED, GELLS*, GOSTRIDE, GREAT STUFF, GREENWICH MEDICAL SKINCARE AND LASER SPA, GREENWICH ORCHIDS AND FINE FLOWERS, HOAGLAND'S, HOME BOUTIQUE OF GREENWICH HOUSEWARMINGS, INTERMIX, J.CREW, J.MCLAUGHLIN, JOIE, JOLIE GOTIQUE*, LILLIAN AUGUST FURNISHINGS + DESIGNS, MADEWELL, MANFREDI JEWELS*, MARMOT, MCARDLE'S FLORIST & GARDEN CENTER, MELI-MELO CREPERIE & CATERING, OOMPH, OUT OF THE BOX, THE PERFECT PROVENANCE, RICHARDS*, R. VAN LOAN CUSTOM FRAMING, SANDRO, SIMON TEAKLE FINE JEWELRY, SPLURGE GIFTS, STEVEN ALAN, STUART WEITZMAN, SWEATY BETTY, THEORY, THREADS AND TREADS, TORY BURCH, VELVET, VILEBREQUIN, VINCE, WINSTON FLOWERS, WUJI RESTAURANT
*ONLINE SHOPPING INCLUDED
SCHEDULE OF EVENTS: OCTOBER 6, 2016
All day shopping at participating merchants in Greenwich and/or online at BCAGOFORPINK.ORG (with code: BCA16)
9 am BCA flag raising with First Selectman Peter Tesei at Greenwich Town Hall
9:30 am Breakfast and conversation at Richards with Dr. Barbara Ward, Medical Director, Breast Center at Greenwich Hospital
5:00 pm Cocktail party, book talk and signing with Geralyn Lucas,
author and breast cancer survivor at Terra Ristorante, celebrating their 25 years in business.  Immediately following, a four-course anniversary dinner with wine pairings will be offered with a portion of proceeds donated to benefit Breast Cancer Alliance. Reservations are required at 203-629-5222.
6-8 pm Men's shopping evening at Richards
WHO:            Breast Cancer Alliance
                        GO FOR PINK Chair: Loren Taufield
Breast Cancer Alliance President: Sharon Phillips
           Breast Cancer Alliance Executive Director: Yonni Wattenmaker
FOR MORE INFORMATION:
GO FOR PINK: www.BCAGOFORPINK.org
Breast Cancer Alliance: www.breastcanceralliance.org
203-861-0014