The Skinny Jeans Diet author creates virtual support group using social media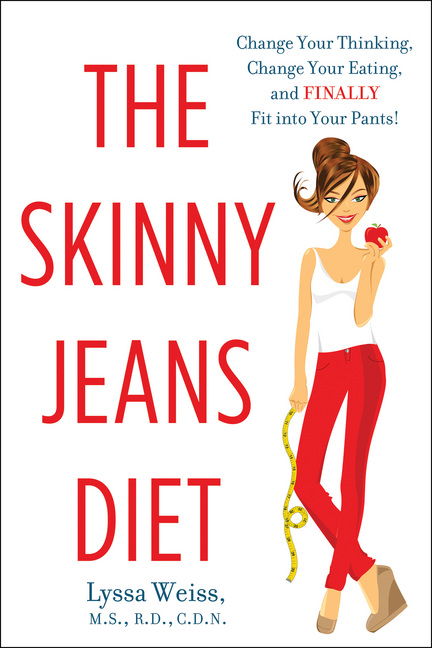 Lyssa Weiss M.S., R.D., C.D.N, nutritionist, media spokesperson, and author of The Skinny Jeans Diet has helped hundreds of people change their emotional eating and bingeing behaviors and lose hundreds of pounds. This week she launches the "Weiss Wisdom Website," (www.lyssaweiss.com) which includes weekly video tips, a strategic social media program, an e-newsletter, and a VIP Club, enabling people outside the Westchester area to chat/consult with her via Skype and quarterly group webinars. She currently has more than 5,000 fans on Facebook and aims to provide more personal service and help to many of them.
Says Weiss, who herself lost 50 pounds by following her rules, "My mantra is 'Change your thinking…change your eating,' because I don't just recommend foods to eat. I explore the sources of cravings and behaviors and help clients change that."
What's Wonderful and Weiss
(and will help you lose weight)?
Tune in here for Weiss TV too!
What? You don't have your copy yet?
The brief and Instagram-like video tips help people prepare for specific situations, get ready for weekends and holidays, and shop smarter. Every Wednesday, subscribers will get a "Weiss Wisdom" tip. Social media posts on Facebook and Twitter will include inspirational memes, recipes, and ideas.
The new VIP Club, which is $300 for a year, includes:
A small quarterly group session with other VIPs via webinar, led directly by Weiss.
Exclusive Insider Weight Management Tips every month
Proven-effective "Good Guy Food Swaps"
Weiss will continue to run sessions in person in her private Armonk office via phone or Skype. These sessions can now be purchased on the new website along with Weiss food recommendations via Amazon.
"My goal is to reach as many people as I possibly can," continues Weiss. "The web gives me so many ways to do that. I can inspire them via video clips, chat with them at their convenience on Skype, or organize small and private support groups so busy people can 'meet' at a time that works for them. Maybe one day I'll even launch a midnight group for late-night bingers! Emotional eating is a 24/7/365 challenge. Now I can help people around the clock and around the country!"
####
About Lyssa Weiss
The Skinny Jeans Diet for anyone who wants to live thin and thrive in a world of food while staying skinny. Lyssa holds a degree in nutrition from Columbia University and was a staff nutritionist at St. Lukes- Roosevelt Hospital VanItallie Center for Nutrition and Weight Management in New York City. She is a weight-management and obesity specialist and the owner of Skinny Jeans Nutrition. Weiss lives in Armonk, New York, with her husband and two children.