I always loved going apple picking. Unfortunately, my son is at college, gone are the days of this annual family outing.
Through the beauty of twitter, I have some new friends.  Thanks to my friend Maria, for sharing this post from her blog  plus.lily.makes.three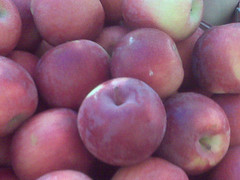 This is the perfect season for it!!  It's a great way to engage with nature, enjoy some classic Northeast activities and is a perfect example of "farm to table" agriculture.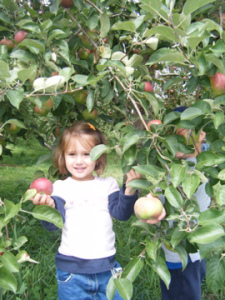 We usually go to Outhouse Orchards in North Salem, NY. This place is beyond charming, pony rides, hay rides, apple picking, cider, pies, jams, jellies, pumpkins, playground and a petting zoo. Now they even have a Corn Maze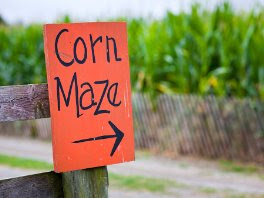 Things to remember when Apple Picking:
Wear sunscreen, even though you are amidst trees, the sun is still hot and beating down.

Wear sneakers or hiking shoes. There is a lot of walking through grassy terrain and let's not forget the common…deer poop.

Long pants are great to avoid the occasional hitch-hiking tick!

Wear a hat to protect your cute little face.

Bring cash, some farms have Credit Card minimums and even though you might spend more than the CC min. The spending happens in doses. A hayride here, a pony ride there, a cider here and a bag of apples there… be prepared. Just bring cash.

Hydrate, drink lots of water.

Watch out for yellow jackets and bees. Just be warned.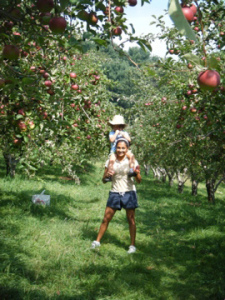 Here's a list of places I recommend to go Apple Picking in Westchester and Duchess County in the NYC area. So get yourself in your car or train pack up your loved ones and go North and  pick them apples!
Outhouse Orchards – North Salem, NY
Wilkins Fruit and Fir Farm – Yorktown Heights, NY
Barton Orchards – Poughquag, NY
Fishkill Farms – Hopewell Junction, NY
Cedar Heights Orchard – Rhinebeck, NY
Mead Orchards – Red Hook, NY
Grieg Farm – Red Hook, NY
Fraleighs's Rose Hill Farm – Red Hook, NY

Orange County Apple Orchards

1) Applewood Orchard & Winery – 82 Four Corners Road, Warwick NY – 845.986.1684 – www.applewoodorchards.com
2) Masker Orchards – 45 Ball Road off Rte 17A, Warwick NY – 845.986.1058 – www.maskers.com
3) Ochos Orchard – 4 Ochs Lane off Rte 94, Warwick NY – 845.986.1591 – www.ochsorchard.net
4) Pennings Orchard – 169 S. Rte 94, Warwick NY – 845.986.7080 – www.penningsorchard.com
5) Warwick Valley Winery and Distillery – 114 Little York Road, Warwick NY – 845.258.4858 – www.wwwinery.com
Ulster County Apple Orchards

1) Apple Hill Farm – 124 Rte. 32S, New Paltz NY – 845.255.1605 – www.applehillfarm.com
2) Apple Valley Farms – 155 N. Ohioville Road, New Paltz NY – 845.255.7077
3) Dressel Farms – 271 Rte. 208, new Paltz NY – 845.255.0693 – www.dresselfarms.com
4) Hurds Family Farm – 2187 Rte 32, Modena NY – 845.883.7825 – www.hurdsfamilyfarm.com
5) Mr. Apples Low-Spray Orchard – Rte 213 W (near Rte 32), High Falls NY – 845.687.0005 or 845.687.9498
6) Prospect Hill Orchard – 40 Clarkes Lane, Milton NY – 845.795.2383 – www.prospecthillorchards.com
7) Tantillo's Farm Market – Rte 9W, Milton NY – 845.795.5607
8) Trapani's Blackberry Rose Farm – Rte 9W, Milton NY – 845.795.5607
9) Troncillito Farms – 275 Lattintown Road, Marlboro NY – 845.236.3124
10) Weed Orchard's – 43 Mt. Zion Road, Marlboro NY – 845.236.2684
11) Wilklow Orchards – 341 Pancake Hollow Road, Highland NY – 845.691.2339
Related articles