America is a vast country with a lot to offer. For anybody looking to explore this fantastic nation, choosing just a few destinations to visit can be difficult. You have such an overwhelming number of options. How on earth can you choose just a few places to visit or perhaps only one place to visit? Well, hopefully, you'll pay many visits to the U.S. if you enjoy your experience, but there are definitely a few key cities you should explore first. These are the American destinations that you simply need to see at least once.
NYC, New York.
New York City is one of the most iconic destinations in the United States. If you're going to pay a visit to America, you should definitely see NYC. It's featured in so many iconic shows (Friends) and too many movies to list. Seeing iconic landmarks in real life will truly leave you in awe. Central Park is utterly stunning. Finding such a quaint and naturally beautiful park in the midst of a sprawling man-made city is bizarre yet wonderful. You should also visit the Empire State Building. It's no longer the tallest building in NYC, as you might be able to tell from the picture above, but it's still one of the most well-known and architecturally breathtaking structures in the city. If you're looking for a place to stay whilst you're in New York, you should check out some of the great hotels that have been mentioned on this site before.
Miami, Florida.
It's also worth exploring Miami in Florida if you want to see some of the most exciting destinations that America has to offer. This city is a sunny paradise. Miami Beach is an iconic location that you simply must visit whilst you're there. Tropical trees, idyllic views of the ocean, and a pristine sandy beach make this a very popular location in Miami. Of course, a city is a big place, so you should do a lot of exploring to ensure that you experience as much of it as possible. You might want to rent a yacht in Miami. This would give you the opportunity to cruise around the city in luxury and style. It would definitely help you to explore Miami in a relaxing way.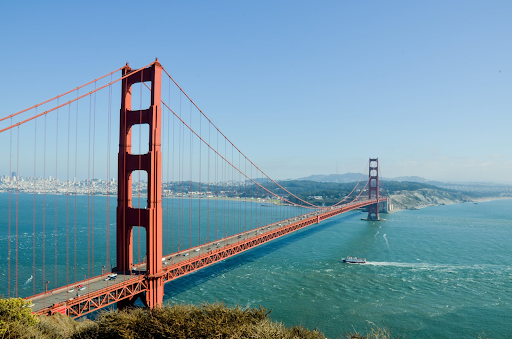 San Francisco, California.
San Francisco is another city that you should consider putting on your "Must See" travel list. California is a beautiful state with so much for tourists to see and do. Obviously, Los Angeles is a very popular destination, but San Francisco offers a very different vibe. This small Californian city is full of steep hills with cable cars for tourists to get around more easily. This gives the city a very warm and welcoming feel. Take a guided tour of the Golden Gate Bridge with San Francisco Local Bike Tours and experience the great bay views.Even Alcatraz Island is beautiful. It might not have a particularly warm history, but the island is now home to beautiful gardens. It even has its own ecosystem. So, the old prison gives you an intriguing look into the history of the island, and the gardens show you what it has become.