Every curvy woman has those days when you're not feeling your best.  On those days, it's important to get out of your head first.  I always start the day by looking in the mirror and telling myself just how beautiful I am.  Another great tip is to write yourself a note reminding yourself of how wonderful you are.  Keep this note in your bag to look at throughout your day or take of picture of it and use it as your screensaver.  I've also noticed that random acts of kindness help get me out of my head.  It can be something as simple as calling a friend or family member to check in or to say "I love you."  And finally, do something nice for YOURSELF.  You deserve a treat.  Go see a movie, get a manicure or just take a walk.  But don't forget the most important thing…you're smart, you're beautiful, you are more than numbers on the scale.  Live for today, love your body today and let's Go Curvy!
But this still doesn't tackle the issue of what to wear on days like these.  Here are my five go-toitems that will put that bounce back to your step.
Sleeveless Longline Waistcoat.  ASOS.COM
A long, sleeveless white coat over your favorite jeans and t-shirt will have you looking fashionable and feeling confident!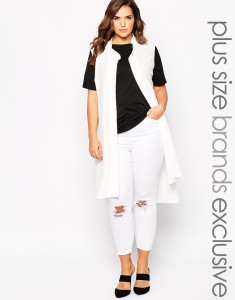 Faded Distressed boyfriend jeans.  Forever21.com
Boyfriend jeans are great when you want a looser fitting option.  Belt, or no belt.  It's all up to you!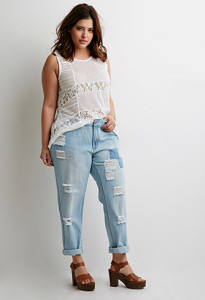 Tory Burch Issy Floral heels!  Zappos.com
HEELS!  Oh yes!  Put them on and strut your stuff!  Try wearing them with your boyfriend jeans.  Ooooo La La!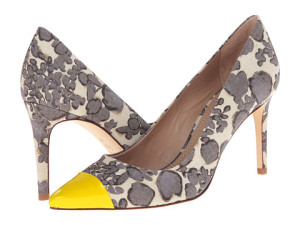 Aztec Print Hooded Fringe Kimono.  Torrid.com
Kimonos are a HOT trend this season!  Throw them over your favorite dress for a bold and sexy new look!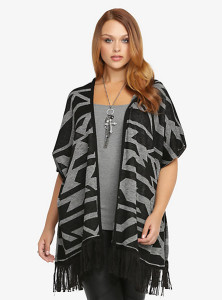 Your confidence!  There are 7 billion people in this world, but only ONE of YOU!!!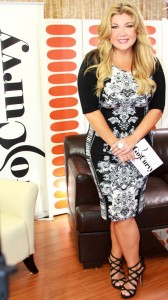 Sherry Lee Meredith is the creator and host of "Go Curvy," a live webTV talk show meant to inspire women of all fits and forms.
Originally from Canada, Sherry moved to Southern California where she launched a chain of beauty salons and started her own line of beauty products. Just as her professional life was taking off, Sherry suffered a stroke that left her paralyzed. She dealt with mental and physical challenges in order to make a healthy recovery, resulting in a new found appreciation for life.
Now reborn as a body acceptance advocate, Sherry's unique life story is one that deserves to be heard by all women. Her insight on the fashion and beauty industries encourage self worth, not body shaming.
Check out Sherry Lee Meredith's show "Go Curvy," with new episodes streaming live every Thursday at 2 p.m. PST. Find her on Facebook, Twitter and the "Go Curvy" Twitter.