Westchester Style and Design for
Your Home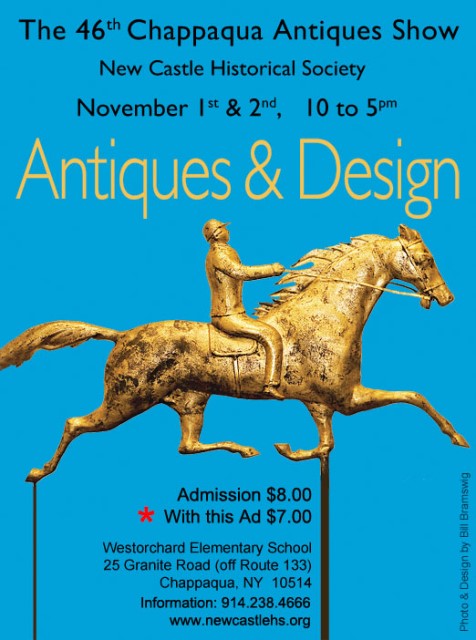 The first weekend of November brings the Chappaqua Antiques Show to Westchester for the 46th year. It is one of the most highly-anticipated events of the Fall in the Northeast. Extraordinary merchandise from more than 50 quality dealers will be featured along with an appraiser, a design consultant, a gourmet cafe, homemade luscious desserts, and a multiple raffle drawing of luxe goods and services.
A dedicated team of 150 energetic volunteers will make this show come to life and sparkle.
"The 46th Annual Chappaqua Antiques Show will have something for everyone," says Dealer Chair Buffy Haas. "Silver, fine jewelry, decorative posters, elaborate quilts, mid-century furnishings, rare maps and books, folk art, and unique collectibles will entertain and tempt show-goers. And the Society's Gold in Your Attic booth has treasures from Westchester's finest attics!"
Our Appraisers, Jay Grutman of Rhinebeck Antique Emporium and Charles Glasner, will be on the stage to provide verbal appraisals of your treasures for a nominal charge. An Interior Designer, Cami Weinstein, will be available for design advice for those unsure how to mesh antique and modern elements in their rooms to add depth and interest to living spaces.
Sponsored by the New Castle Historical Society, this event raises important funds to support the Horace Greeley House Museum and its rich calendar of activities for students, adults, and researchers.
A perennial favorite in the Hudson Valley, the Chappaqua Antiques Show has something for everyone. Plan to be part of it and save the date!
Event:  46th Chappaqua Antiques Show
Location: Westorchard School, 25 Granite Road off Route 133, Chappaqua, NY
Date: Saturday, November 1 and Sunday, November 2 – 10 a.m. to 5 p.m.
Admission:  $8.00 ($7.00 with coupon – see website)
Information: www.newcastlehs.org   (914) 238-4666
Benefits the New Castle Historical Society