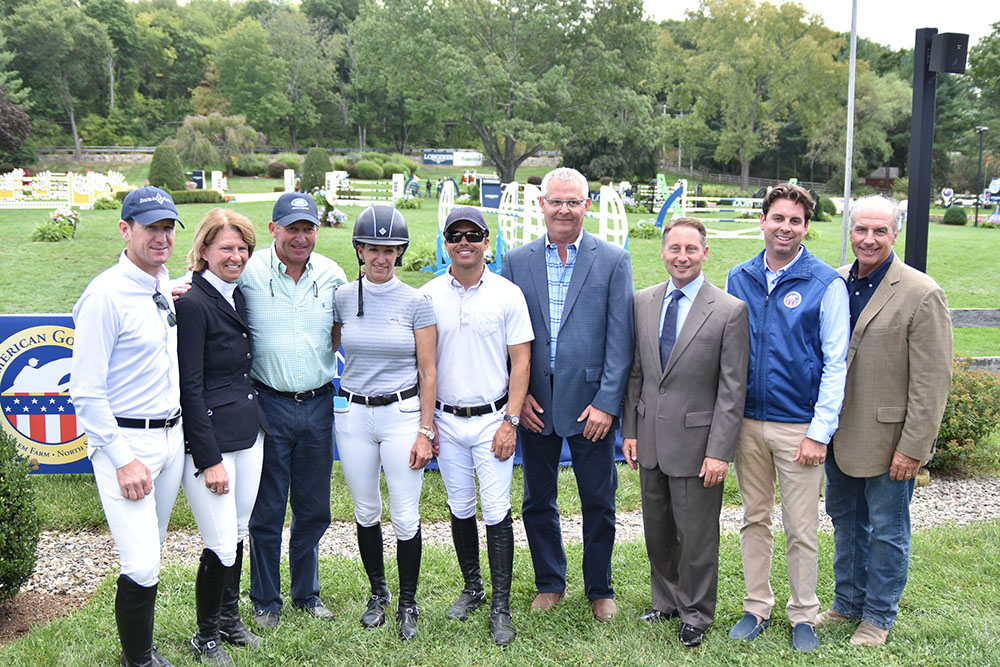 Westchester County's picturesque Old Salem Farm once again sets this stage for the 46th Annual American Gold Cup, one of the America's most exciting international show-jumping events. County Executive Robert P. Astorino joined representatives from Old Salem Farm, Longines FEI World Cup, American Gold Cup and honored guests the US Olympic Silver Medal team members Beezie Madden, Kent Farrington, Laura Kraut and Westchester native McLain Ward for a press conference Friday addressing the positive economic growth the competition brings to Westchester.
"Through events such as The American Gold Cup, Old Salem Farm attracts thousands of riders and visitors to Westchester County, which has helped add $47.8 million in visitor tax revenue into our local economy," said County Executive Robert P. Astorino. "The American Gold Cup and NBC Sports' national broadcast of the grand prix highlights Old Salem Farm and puts Westchester on the map as premier destination to millions of viewers. We are so proud of Old Salem Farm for their great work as they continue to host this prestigious event."
The prestigious American Gold Cup brings an international field of world-class competitors to Westchester County – representing 17 nations from around the globe. According to a new Economic Impact study conducted by the Sport Management Research Institute, Old Salem Farm – hosting American Gold Cup for the fifth year – contributed more than $282 million of economic impact to the local area and Westchester County in 2015.
"As a premier equestrian facility in North America, we are thrilled to welcome visitors to this exciting competition," said Old Salem Farm Manager Alan Bietsch. "We are proud to be part of this community and contribute to Westchester's economic growth."
"It is an honor to welcome the representatives from Westchester County at this year's American Gold Cup. In our fifth year at Old Salem Farm, we are proud to bring an international event to the area and are thrilled with the support we have received from local organizations," said Michael Morrissey, President of Morrissey Management Group. "The American Gold Cup has something to offer to everyone: in addition to world-class equestrian competition, we have many culinary and hospitality options, boutique shopping and activities for children of all ages."
The American Gold Cup runs through Sunday, September 18th.  Tickets can be purchased by visiting www.theamericangoldcup.com/purchase-tickets/.
For the latest events and happenings in Westchester, log onto www.visitwestchesterny.com, like us on Facebook (facebook.com/westchestercountytourism), follow us on Twitter @westchestertour or call 1-800-833-9282. To view the Westchester County Destination Guide, please visit http://bit.ly/2cCFErf
About Westchester County Tourism & Film
Tourism & Film is Westchester County's official destination marketing organization. Its mission is to generate economic benefits by enhancing the image and promoting Westchester County as a premier business and leisure destination in the Hudson Valley region. The Tourism & Film Office in Westchester County is a division within County Executive Robert P. Astorino's Office of Economic Development.
About the American Gold Cup
Held over five days, the American Gold Cup brings together a diverse crowd of elite equestrian athletes, discerning horse owners, excited fans and young hopefuls waiting to catch a glimpse of their idols set amongst a fanfare of family-friendly activities, competitions, shopping, entertainment and celebrity sightings.
In addition to the competition ring, the international show jumping event features high-end shopping located along Old Salem Farm's boutique row. From top-notch equestrian tack and equipment to fashion, jewelry, antiques, art and much more, the scenic outdoor boutiques offer show-goers the perfect opportunity to get some shopping in while taking a break from the competition action.
Old Salem Farm, located an hour north of New York City, boasts a state-of-the-art stabling facility, an historic pristine grass Grand Prix field and outstanding competition and schooling arenas, all of which are surrounded by one of the world's most charming and picturesque competition venue settings. For the past four years, the North American Riders Group (NARG) has recognized the Old Salem Farm competitions on their NARG Top 25 List. For more information on Old Salem Farm, including its yearlong competition schedule, prize lists, clinics, boarding, lessons and training, visit www.oldsalemfarm.net.