Spring into March with a feast full of authentic Italian cuisine from Bronx Little Italy, which features New York City's best, authentic Italian restaurants, bakers, delicatessens, pastry shops, and specialty stores, and celebrate a number of upcoming Italian and food holidays including National Meatball Day (March 9), Saint Joseph's Day (March 19), and National Ravioli Day (March 20).
Commemorating Italian-American culture and cuisine staples, The Belmont Business Improvement District (BID) shares various merchants in Bronx Little Italy that will feature a number of offerings available for shipping, delivery, curbside pick-up or dining to help folks celebrate.
National Meatball Day (March 9)
Sunday wouldn't be complete without a delicious meat ragu simmering on the stove and some meatballs.
Trattoria Tra Di Noi – Chef Marco's meatballs have become a "Sunday" staple on Arthur Avenue, made with traditional pork, beef, cheese, breadcrumbs, egg, parsley and over 60 years of experience. Trattoria Tra Di Noi is currently offering $4 meatballs for a la carte and are available for indoor and outdoor dining as well as takeout.
Enzo's of Arthur Avenue – Enzo's fried meatball appetizer is one of their most popular dishes. Complete with beef, veal and pork, Italian bread and topped with sautéed onions and hot peppers, patrons can enjoy these for $15.95. Available for indoor and outdoor dining as well as takeout.
Peter's Meat Market – Cooking meatballs since 1970, Peter's Meat Market prepares fresh, never frozen meatballs every day, which are made with beef, veal, pork, Italian bread, and seasonings like garlic, salt, pepper, and parsley. Co-owner, Peter Servedio, recommends cooking them in the oven at 350 degrees for approximately 45 minutes. Available for pick up or in-store purchase at $9.99 per pound.
St. Joseph's Day (March 19th)
St. Joseph's Day, also known as the Feast of Saint Joseph, is a day to commemorate the life of the Virgin Mary's husband and the earthly father to Jesus with a large feast. The holiday dates back to the middles ages when Sicily faced a major draught that threatened a massive famine. The locals prayed to their saint and promised to honor St. Joseph with a proper dinner in hopes of relief. The draught ended with rainfall and the locals celebrated each year preceding. Two traditional pastries made for this holiday include Zeppole and Sfingi.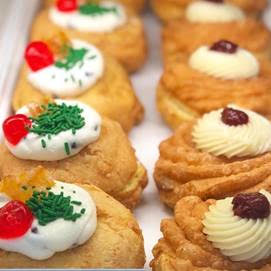 Artuso Pastry – Open since 1930, Artuso Pastry will offer $3.95 Zeppole, made with vanilla custard cream and amarena cherries, and $3.95 Sfingi, featuring cannoli cream topped with citrus fruit. Both are typically enjoyed with a cappuccino or espresso. Available for shipping at $19.95 for 3 or takeout.
Delillo Pastry Shop – Around since 1925, Delillo Pastry Shop will be offering St. Joseph Sfingi, complete with cannoli cream, topped with a glazed cherry and candied orange, and Zeppola, made with custard and glazed cherries. Sold at $3.50 each, both will be available on Grubhub, Postmates, Seamless, and Ubereats.
Morrone Pastry – This old school bakery carries St. Joseph Zeppole with custard and topped with an amarena cherry and St. Joseph sfingi complete with cannoli cream, and topped with a candied orange slice and a glazed cherry. Available for purchase at $4.50 each for indoor dining and takeout.
Additional Pastry Shops Include: Egidio Pastry Shop and Gino's Pastry Shop
National Ravioli Day (March 20th)
The pastabilities are endless when it comes to Italian food, but this March, celebrate National Ravioli Day with specialty flavors from Borgatti's.
Borgatti's Ravioli & Egg Noodles is a fourth-generation, family-run pasta shop since 1935. Visitors can purchase their ravioli in-store or order through their website. Ravioli flavors include ricotta ravioli, pumpkin & ricotta, spinach & ricotta to meat & spinach, and porcini & ricotta. One of Borgatti's top tips on how to best to make their ravioli is to start by adding a pinch of salt to boiling water. Simmer gently for 12-15 minutes for large ravioli, and 8-10 minutes for small ravioli, and be sure to stir!
Peter's Meat Market
Artuso Pastry
Morrone Pastry
Borgatti's Large Ravioli