Hudson Valley Restaurant Week's (HVRW) spring season and tenth anniversary kicks off Monday, March 7 and runs to March 20.  Anticipation is already building as the valley's top chefs and restaurateurs prepare for the region's ultimate culinary event. The record-breaking list of 235 participating restaurants is now available online.  The list includes more than two dozen restaurants that are to Restaurant Week this year.  The two-week dining event, which is presented by The Valley Table magazine, offers diners the chance to experience the best restaurants in the region at a fraction of the normal price point.
Many Restaurant Week menus will feature innovative use of the Valley's bounty and ingredients that the region is known for. Guests can expect to sample an abundance of colorful dishes featuring apples, onions, artisanal cheeses, mushrooms and more.
Locally-rooted dishes appear on menus across the region.  See how these 10 leading Hudson Valley chefs and restaurateurs are using 10 distinct Hudson Valley ingredients on their Restaurant Week menus:
1.       APPLES – Featured in Crabtree's Kittle House's Long Island Skatewing – Since its 17th Century introduction to the region, the ubiquitous apple has influenced the valley's economy, history and culture. Today, there are 145 farms that grow apples and produce about six million bushels annually.  More than 500 varieties of apples originated in New York State before the mid-1800s.  The largest cider producer in New York State is located in Orange County in the town of Warwick. Warwick Valley Winery and Distillery produces 100,000 gallons – nearly 50,000 cases – of Doc's Draft ciders annually.
Chef Jay Lippin of Crabtree's Kittle House typically gets his apples at JD Farms in Brewster, New York.  Lippin says, "I've learned a great deal about the New York State apple and cider industry through the non-for-profit organization Glynwood and their cider initiative. Apples are most commonly considered as an element of dessert, but I like to use them as an accompaniment to a flaky white fish. For spring HVRW, I'm using apples in a twist on the classic grenobloise sauce for our sautéed Long Island Skatewing."
ONIONS – Featured in Restaurant North's HVRW Vegetarian Option – The Hudson Valley owes its onion abundance to the black dirt region in Orange County. Named for the rich, jet-black soil, the region has been historically known as the "Onion Capital of the U.S."  Approximately 70 farms in the area still produce 25 percent of the nation's onions. Not only can the Hudson Valley boast of an abundance of onions, but the abundance of chefs who recognize the versatility of this vegetable, like Eric Gabrynowicz, Executive Chef of Restaurant North. From rich soups and hearty tarts, to fresh salads and beer-battered rings, Gabrynowicz says, "We use onions more as a show piece than an afterthought."
"For Restaurant Week, we will be using local onions from Guy Jones at Blooming Hill Farm, slathering them with locally-sourced butter and roasting them on high heat, scooping out the inside and making a hash that consists of the inner onion, ancient grains and pickled vegetables. At Restaurant North, we only use onions from the black dirt region of New York.  They are sweet, pungent, incredibly mineral rich and unmatched!"
VENISON – Featured in Perch's new Venison Stew – Farm-raised, steroid and antibiotic-free venison has become mainstream in the Hudson Valley over the past few decades.  With the expansion of deer farms throughout the valley including Highland Farms, Lithgow Deer Farm, Millbrook Venison, Musicon Deer Farm and Quattro's Farm Store, more chefs are adding deer  to the menu.
For Restaurant Week, Cathryn Fadde, Owner of Perch and Cathryn's Tuscan Grill, will create a venison stew with wild mushrooms and tomato served alongside a toasted baguette, mashed potatoes and roasted brussel sprouts or sautéed kale. Chef Paul Roper of Perch notes, "I have been cooking venison for many years – usually in a professional kitchen, but also at home or with friends and family.  My wife's family is avid hunters, which gives me opportunities to cook and eat their venison. My favorite preparation of venison is this stew, but the most intriguing was a venison carpaccio with roasted wild mushrooms and horseradish aioli."
CHEESE – Featured in X2O on the Hudson's Beer Braised Short Ribs with White Cheddar Corn Grits– Many award-winning cheeses coming out of the Hudson Valley from pioneers like Coach Farms and Old Chatham Sheepherding Company, as well as from smaller producers like Sprout Creek Farm, Nettle Meadow Farm, The Amazing Real Food Company and Twin Maple Farm. With the region's local cheese at his fingertips, Chef Peter Kelly is able to add a twist to traditional corn grits making a creamy and irresistible white cheddar cheese grits dish for his Hudson Valley Restaurant Week menu.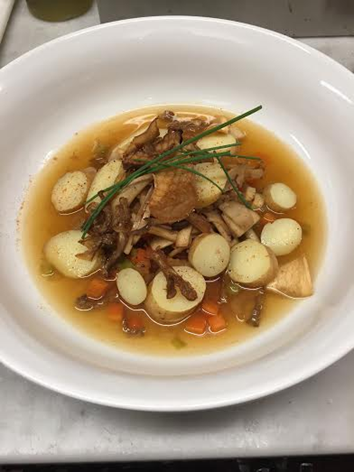 MUSHROOMS – Featured in Le Express Bistro & Bar's Madura Farm Mushroom Paprikash –Mushroom production was once a booming business in the Hudson Valley. While much mushroom production has shifted to Pennsylvania, mushrooms remain a culinary favorite, grown and foraged in the Hudson Valley.  In a season filled with root vegetables and storage crops, these flavorful fungi can be a welcome addition to late winter and early spring menus.   Just ask John Lekic, Owner of Le Express Bistro & Bar's. "For Restaurant Week, we are planning on using locally-sourced mushrooms from Madura Farms in the Hudson Valley. Paprikash is our theme dish. Madura Farm Mushroom Paprikash is totally vegan, vegetarian and gluten-free.  Ninety percent of the ingredients to make this dish are sourced locally in the Hudson Valley. The mushrooms are all organic, natural, no pesticides."
GRAPES – Featured in Café of Love's Drunken Goat Cheese Pot Appetizer – The Hudson Valley was the first wine producing region in the nation and excellent vintages are still produced by dozens of picturesque wineries.  Leslie Lampert, Executive Chef and Owner of Café of Love, gets her grapes from neighborhood farms Amba Farms and Hilltop Hanover.  During Restaurant Week she'll be featuring a dinner appetizer, "Drunken Goat Cheese Pot," with Pinot Noir red grape reduction, whipped goat cheese infused with basil, thyme and chilies – sweet, savory and spicy – over a toasted baguette.  Lampert says, "I love the musty skins that hug the sweet burst of squishy pulp. Great for gastriques, vinaigrettes and, of course, jams. I also love to roast grapes and fold into chicken salad with fresh grapes."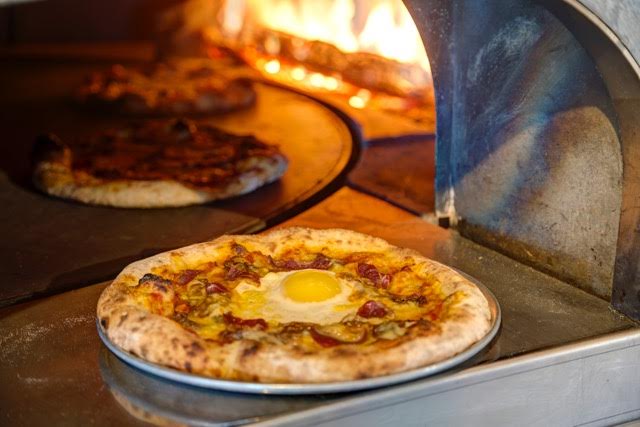 FOIE GRAS – Featured in  RiverMarket's Bar & Kitchen's Wood- Fired Hudson Valley Duck Pizza with Roasted Foie Gras Nuggets – Hudson Valley is home to the country's premier producer of foie gras.  Historically, foie gras has been cooked in a paté or terrine and served cold. Over the last 25 years, more people are enjoying foie gras, which is seared and served hot with a sweet and tangy fruit garnish.  The innovative owner of RiverMarket Bar & Kitchen, Glenn Vogt, is using the delicacy in a unique way this Restaurant Week, seamlessly combing sophisticated and casual dining.  He'll be featuring a classic margherita pizza topped with Hudson Valley duck leg confit, duck breast prosciutto, soft-cooked duck egg and wood-roasted duck foie gras nuggets.
Vogt says, "The Hudson Valley Moulard Duck is the greatest contribution from the Hudson Valley to the world's luxury food product culture. The Moulard Duck is raised for all of its perfectly fatty parts – magret breast, confit leg and the spectacular foie gras liver. The foie gras is at once rich and ethereal, combining powerful flavors and silky textures in an otherworldly sensory sensation. A singular dish worthy of the 10th anniversary celebration of Hudson Valley Restaurant Week, this is the Hudson Valley Moulard Duck in all of its majestic glory –  elevating the simple, beautiful, wood-oven Margherita pizza to a most memorable texture and flavor indulgence."
MAPLE SYRUP – Featured in Clock Tower Grill's Crown Maple Cured Bacon smoked with Apple Wood – The sugar maple is part of the Hudson Valley brightly-colored fall foliage and is New York State's official tree. It produces sap with the highest sugar content of all maples and is therefore the tree of choice for tapping.  Rich Parente, Owner of Clock Tower Grill, sources maple syrup from nearby Crown Maple and Madava Farms.
"We at the Clock Tower use Crown Maple in many of our products from cocktails to cooking," says Parente.  "But the one item that we are most proud of is our Crown Maple cured bacon, which is cured for 10 days and then smoked with apple wood. We use this bacon in many of our dishes, but my favorite is the bacon and egg appetizer – this lets the bacon stand alone in all of its glory seared and served with deviled eggs.  We can't wait for Restaurant Week diners to try it!"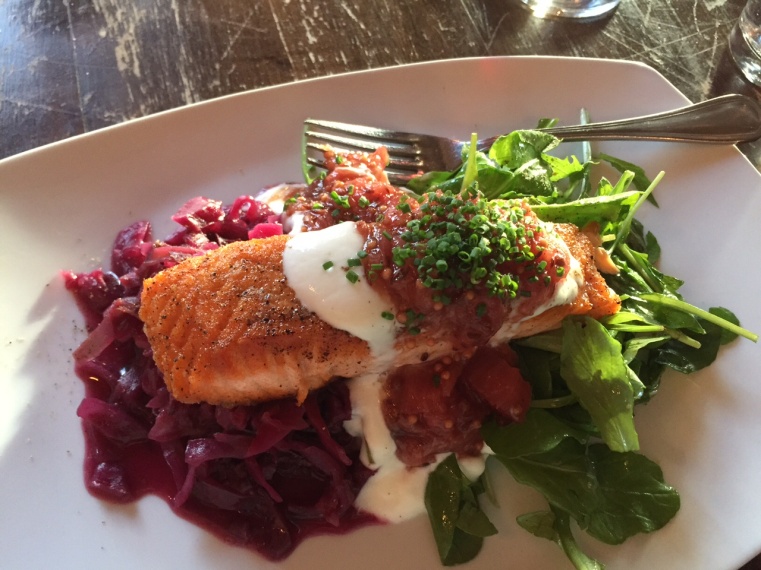 DAIRY – Featured in The Village Tearoom Restaurant & Bakeshop's  Pan Seared Salmon & Creamy Wild Hive Polenta Bowl –The Hudson Valley has been long known as Dairy Country.  Some innovators in sustainable milk farms and innovative marketing are proving the Hudson Valley remains an important dairy region, despite decline in dairy farms.  Agnes Devereux, Executive Chef and Owner of The Village Tearoom Restaurant & Bakeshop, has been using Ronnybrook Farm's milk and Hawthorn Valley Farm dairy products for more than a decade.  For Restaurant Week, she'll be featuring a pan-seared salmon withHawthorn Valley Greek Yoghurt.
"I love to pair a dollop with a rich fish or at other times, we have made a maple pudding with the yoghurt. We also make Raita to serve with lamb meatballs," Devereux notes.    They'll also be serving up a creamy wild hive polenta bowl with wild mushrooms, shallots and garlic.  The dish is made with local finely-milled wild hive polenta. It is cooked long and slowly in Ronnybrook creamline milk, creating a creamy and comforting dish of soft polenta, topped with the earthy flavors of wild mushrooms cooked with butter, shallots and garlic.
DUCK – Featured in Terrapin Restaurant's Barbecued Duck Quesadilla – Poultry has long been a farming staple of the Hudson Valley.  Of particular interest to chefs today are the region's duck and duck charcuterie and duck eggs.  Josh Kroner, Owner and Executive Chef of Terrapin Restaurant, says, "Duck has held an important place on Terrapin's menu, appearing in different incarnations, from appetizers and pastas to entrees throughout the years. It's readily available in the Hudson Valley as a sustainable, local (and delicious) ingredient. My favorite way to prepare duck is as duck confit, especially when it's served in a quesadilla."
Hudson Valley Restaurant Week launched a decade ago by the Valley Table to showcase the area's vibrant dining scene and also to help reinforce relationships among the chefs and local farmers, winemakers, brewers, distillers, artisanal producers and purveyors. Spanning 114 miles across seven New York State counties, it is geographically one of the largest Restaurant Week events in the nation. During the event, diners can enjoy a three-course lunch for $20.95 or a three-course dinner for $29.95 (tax, drinks and gratuity not included).
For more details including a complete list of participating restaurants, visit the recently revamped website: www.HudsonValleyRestaurantWeek.com.  Find The Valley Table's Hudson Valley Restaurant Week on Facebook, Twitter and Instagram: #HVRW, #ToastToThe10th and @ValleyTable.