The Westchester Parks Foundation (WPF) and Tovami Yoga kick off the 2019 Sunset Yoga in the Parks series on Wednesday, May 22 at 5:45 p.m. at the Kensico Dam. The FREE classes are open to any level of flexibility and take place throughout the summer at Kensico Dam and Playland Park. Participants are asked to register in advance and bring individual mats or towels.  Sunset Yoga in the Park is hosted by the WPF, Tovami Yoga, and Westchester County Parks, and sponsored by NewYork-Presbyterian Hudson Valley and Lawrence Hospitals.
The series will take place on the following dates and locations:
Kensico Dam Dates:
Wednesday May 22nd 5:45pm-7pm
Wednesday June 19th 5:45pm-7pm
Saturday Sept 14th 4:00pm-5:15pm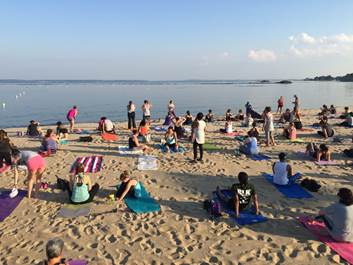 Playland Beach Dates:
Wednesday July 17th 6:45-8pm
Wednesday August 14th 6:45-8pm
*rain dates will be the following week same time same day
For more information visit: https://www.thewpf.org/event/sunset-yoga-park-series-kensico-dam-plaza/
About Tovami Yoga
Tovami Yoga is a classic yoga studio located at 112 W Boston Post Rd in Mamaroneck, across from Harbor Island Park and is also a founding sponsor of Sunset Yoga in the ParksA 2018 Best of Westchester winner, Tovami Yoga offers a diverse selection of classes and workshops taught by many of Westchester's favorite teachers. Owner/director, Tobi Kundid who opened the studio in 2016 explains, "Tovami means community.  The focus of the studio is to build a yoga community of like-minded people who can practice together, create friendships, and honor yoga as an ancient mindfulness art." For a full list of classes, workshops and special events, call 914-618-4887 or go to tovamiyoga.com.
About Westchester Parks Foundation
Westchester Parks Foundation is a 501(c)3 not-for-profit, philanthropic organization which provides private support to preserve the County's park system and improve the quality of life in our communities. Westchester Parks Foundation's mission is to engage the public to advocate for and invest in the preservation, conservation, use, and enjoyment of the 18,000 acres of parks, trails, and open spaces within the Westchester County Parks system. For more information, visit thewpf.org.