I sat down with Emily Schmalholz to learn how this Westchester events "therapist" transformed the iconic Cap.
It is likely that you are already familiar with The Capitol Theatre, an iconic venue located in Port Chester, NY. The theater boasts a storied history spanning over a century, during which it has hosted legendary acts such as The Rolling Stones, Pink Floyd, Bob Dylan, and David Bowie, as well as more contemporary icons like Snoop Dogg, Kacey Musgraves, Kevin Hart, and Amy Schumer. However, The Capitol Theatre offers more than just a rich musical legacy. Head of Special Events Emily Schmalholz expertly curates immersive experiences that bring to life the century-old "original rock palace," transforming it into the perfect setting for unforgettable weddings, parties, bat/bar mitzvahs, and milestone celebrations.
What has changed in the new era of the historic venue, since the 2012 renovation and re-opening under the guidance of music entrepreneur Peter Shapiro?
When Peter Shapiro took over the venue in 2012, he brought an amazing new energy, vibe, and vision to The Cap. His goal was to restore The Capitol to its former glory as a premier destination for live music and events, investing heavily in renovations and upgrades to make that happen. His passion and dedication combined with state-of-the-art sound, lighting, and impressive digital wall projections have brought The Capitol Theatre back to its original cult status attracting not just A-list artists and music lovers but also incredible corporate and social events for groups ranging in size from 20-2000.
The renovation also brought the introduction of Garcia's at The Capitol Theatre, located just off the main lobby and named for the Grateful Dead's guitarist Jerry Garcia. This vibey bar is surrounded by exposed red brick walls with rare rock photos & memorabilia. It's a great spot to meet friends before a show or see local bands play on nights when the main stage is dark. Garcia's has also become a popular venue to host private corporate and social cocktail party-style events for up to 250 guests. Complete with its own stage, concert sound & lighting, and unique connection to The Capitol Theatre the rock n' roll vibe is already set to host birthday parties, corporate group outings, fundraising events, and holiday parties.
How is planning an event in the theater (2,000 capacity) different from the adjoining inner-sanctum bar and music club Garcia's (250 capacity)?
There is a jaw-dropping wow factor when hosting private events in the main Capitol Theatre that is unlike any other venue in our area. A casual, fun tone is set from the start when first walking past the box office and having a drink in Garcia's during cocktail hour. When entering the main room you are immediately wowed by the legendary stage, 65' domed ceiling and surrounding iconic walls with digital imagery acting as a seamless extension to the design and theme of the event. We've hosted incredibly moving and successful benefit concerts for local and national organizations, stunning weddings under "digital stars," private corporate concerts with artists such as Eddie Vedder from Pearl Jam and Mumford & Sons, rock star bar/bat mitzvahs, team-building outings where groups write songs together before performing them on The Cap's stage and epic holiday parties! Our in-house production/stage crew is the best in the business, capable of setting the stage for the biggest artists in the world while also managing the intricate stage needs of a large private event.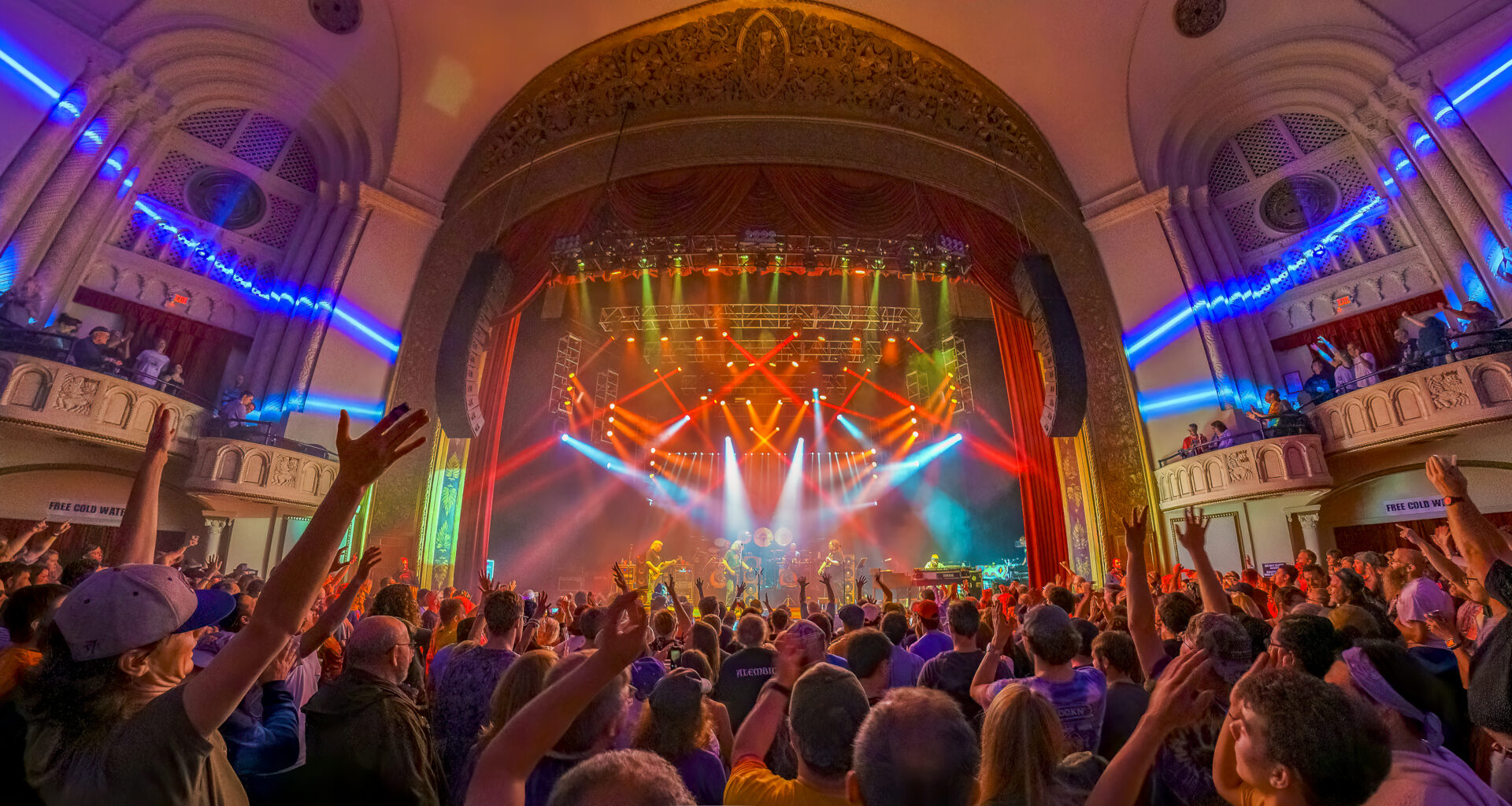 Garcia's has a similar vibe to the main theater but just on a smaller scale. A popular venue for milestone birthday parties & fundraising events, the venue is set up perfectly for a cocktail party-style event. Anchored by a stage set for your favorite band or DJ, Garcia's is a great alternative for someone on a smaller budget looking for a music-forward event venue. The adjacent lobbies and the mezzanine bar are often used to expand the party space as well.
I bring my experience as a former Event Planner and Music Television Producer to every event to ensure a music-filled, organized, creatively detailed, high-level event experience for everyone.
Garcia's is named for Jerry Garcia in partnership with his family. Is it all Dead Heads? What's your favorite Grateful Dead song?
While The Capitol Theatre is legendary within the DeadHead community and we embrace their dedication and love for the theater, they are a small segment of fans that come through The Cap's doors on a daily basis. I am definitely a hippie at heart and love so many Dead tunes. If I have to pick one though… I'd say Sugar Magnolia …or Eyes of The World.
Who are your dream performers for the venue?
While we did host an incredible private concert with Eddie Vedder, Pearl Jam is still at the top of my list. Other dream performances would be Stevie Nicks, Dave Matthews Band, Jack White… The Who? a Led Zeppelin reunion!? 🙂
What inspired you to pursue a career in television production after working at Emerson's college radio station?
I was obsessed with MTV from the first day it showed up on my living room TV! My favorite artists became more accessible and I was amazed by it. I went to Emerson College with the intention of pursuing a career that related somehow to music. At the time, their Radio major provided an excellent route to get there. Once I started producing videos, I knew that I wanted to jump into music television and thankfully Emerson provided amazing tools to get there. I interned for MTV News while in college and then settled at VH1 as a Producer a few years later.
How did your event company Life Of The Party Productions come to be? How does that experience inform what you do now for The Cap?
After moving up to Westchester, and taking a mom-break from my television producer career, I helped out a friend who was working on a documentary focusing on a top event planner in NYC. After a few days of working on this film, it dawned on me that producing television and event planning have the same core skill sets. They both combine creative detailing with problem-solving, seeing the big picture while focusing on the smallest details, and require the ability to stay calm under pressure. It was that moment that inspired Life of The Party Productions… a boutique Event Planning company where my business partner Lisa Ehrlich Rapkin and I could produce large-scale high-end events and stay close to home to be near our kids. Throughout the 8 years of Life of The Party, I self-taught myself the ins & outs of the business… learning on the fly, and planning events in some of the most incredible venues throughout the tri-state.
I've brought that experience to The Cap and I am proud to call The Capitol Theatre my home venue! My event planning experience has definitely helped me to better understand & relate to the needs of our clients to ensure the best planning experience possible!
How did your love of music influence your work as a television producer and event planner?
I'm a big believer in "do what you love"! I never thought to explore career paths that weren't aligned with my passions. Music is an equalizer. It's this amazing thread that bonds us together. I love how music has the ability to both set the tone of an event and raise money for an important cause… become the backdrop to a couple saying "I Do" and bring people together who might not have ever connected otherwise.
What advice would you give to someone looking to work in the field of event planning and production?
I feel incredibly lucky to have found my way into this crazy world of music & events. My career path has guided me through radio, TV, music television, event planning and now planning events at a music venue! Yes! If you are creative, detail-oriented, and love to stay busy,,,, then this could be the right field for you. While in college, my internships were the most important tool. Learning while do-ing in real-world environments is invaluable. Try everything until you find what you love!
How do you balance the demands of event planning with your family life and responsibilities as a mother and wife? Can you share some tips on how to manage a successful career while still being present for your family?
Work/life balance is a real challenge as a working mom. As my kids grew, I grew my career with them. In 2007, when my youngest son left for Kindergarten, I knew it was time to jump back into my career but it was important to stay close to home and have flexibility. I opened up an event planning business in Armonk so that I could stay busy and creative while remaining only a few miles away from their schools and our home. As they got older and relied on me for less, I jumped on the opportunity to plan events in my favorite venue, The Capitol Theatre! For me, it's been important to show my kids how happy I am while working to inspire them to follow their dreams.
How has your experience working at The Capitol Theatre impacted your personal and professional growth?
I feel so fortunate to work in a venue that makes me smile on a daily basis. It's been 8 years since I took on this role running Special Events for The Cap and my heart still skips a beat when I walk through the main theater… look up at the dome and think of all the wow moments that have happened inside these 4 walls. I've been able to combine my past experiences and passions together into one awesome job! I am incredibly grateful and lucky to rock events on a daily basis in the amazing Capitol Theatre!