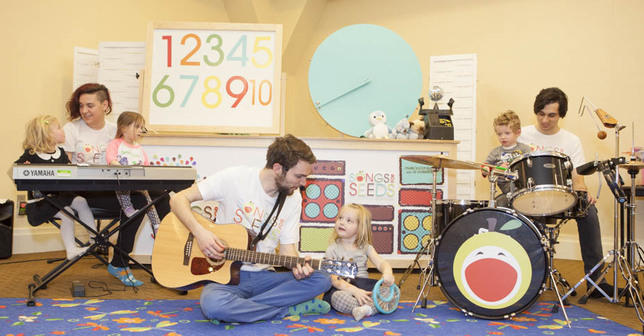 Songs for Seeds, the award winning and beloved children's music program, will hold a free concert this Saturday, April 29th at 12:15 at the Westchester Children's Museum at Playland in Rye.
Named "Best Music Class" by New York Magazine and "Most Magical Music Class" by Red Tricycle, Songs for Seeds offers seven toddler music classes, for children under six-years of age, on Mondays, Thursdays, Friday and Saturdays at The East Pointe Dance Studio, 11 Rye Ridge Plaza, at the Rye Ridge Shopping Center.
Songs for Seeds features 45-minute classes led by a three-piece live band of teacher/musicians who encourage kids to sing, play instruments, and dance. At the end of class, the students are invited to sing with the band (karaoke style) and play the band's instruments (guitar, keys and drums).
Each week the children experience music, instruments and language from a different culture. Magnetic art murals are created by the children during the sing-along of well-known nursery rhymes, magic tricks are used to practice numbers and counting and a wheel is spun to reinforce the names and sounds of animals. By mixing original kids rock 'n' roll with adult contemporary music, the band is sure to please little ones (and their adult parents!).
For more information about Songs for Seeds visit: https://songsforseeds.com/ny/ryebrook or contact Dana Goodman Fisher at dana@songsforseeds.com