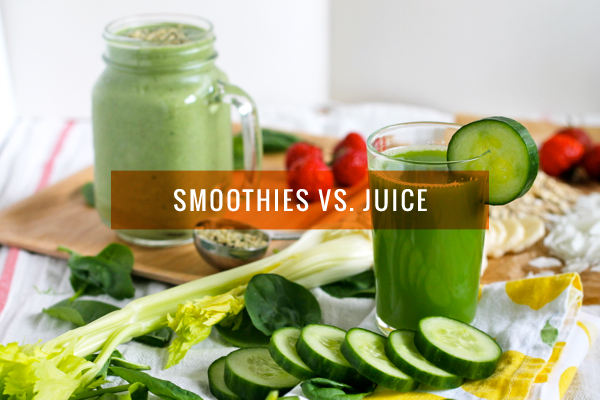 It' s all so confusing,  Which is better: juicing or blending? Does one offer more health benefits than the other? Both can play an important role in your routine.
What's The Difference?
JUICING
Juicing is a process, which extracts water and nutrients from produce and discards the indigestible fiber.
Without all the fiber, your digestive system doesn't have to work as hard to break down the food and absorb the nutrients. In fact, it makes the nutrients more readily available to the body in much larger quantities than if you were to eat the fruits and vegetables whole.
This is especially helpful if you have a sensitive digestive system or illness that inhibits your body from processing fiber. The fiber in produce helps slow down the digestive process and provides a steady release of nutrients into the blood stream.
Freshly squeezed vegetable juices form part of most healing and detoxification programs because they are so nutrient rich and nourish and restore the body at a cellular level.
When you remove the fiber from the produce, the liquid juice is absorbed into your blood stream quickly. It's like a nutritional bullet to the system. Flooding the body with vitamin, minerals and photo-nutrients.
BLENDING
Unlike juices, smoothies consist of the entire fruit or vegetable, skin and all, which contains all of the fiber.
However, the blending process breaks the fiber apart (which makes the fruit and vegetables easier to digest) but also helps create a slow, even release of nutrients into the blood stream and avoids blood sugar spikes. Smoothies tend to be more filling because of the fiber. So, they can be used as a meal replacement.
By including the fiber in your smoothie, the volume will increase. You are able to pack more servings of fruits and veggies into a single serving of juice than you can into a smoothie. If you are trying to lose weight, this is an important factor. Smoothies can really pack calories. Also, keep fruits to a minimum as they can cause a spike in blood sugar, a loss of energy and make you hungrier. Play the best friv games web site online. The most popular collection of friv games are presented on this mega portal.
Guidelines for juicing and blending:
By blending, you get everything that you would get in juice, so juicing is not a necessary component of a healthful diet.
Whereas a green smoothie can be a meal, think of a vegetable juice as a supplement to add extra leafy green-derived nutrients to a healthful diet.
If you do juice regularly, make sure that you are not replacing your leafy green salads and whole raw vegetables with juices.
Whether you are juicing or making smoothies, be sure to put a greater focus on vegetables than fruit; use only a small amount of fruit to add flavor, so that you maximize nutritional value and limit glycemic effects.
Limit smoothies and green juices to one per day, and remember that this does not remove the necessity to utilize your teeth to eat a raw salad every day.
So, in short, both have benefits. Depending on your goals, you can choose what's right for you.