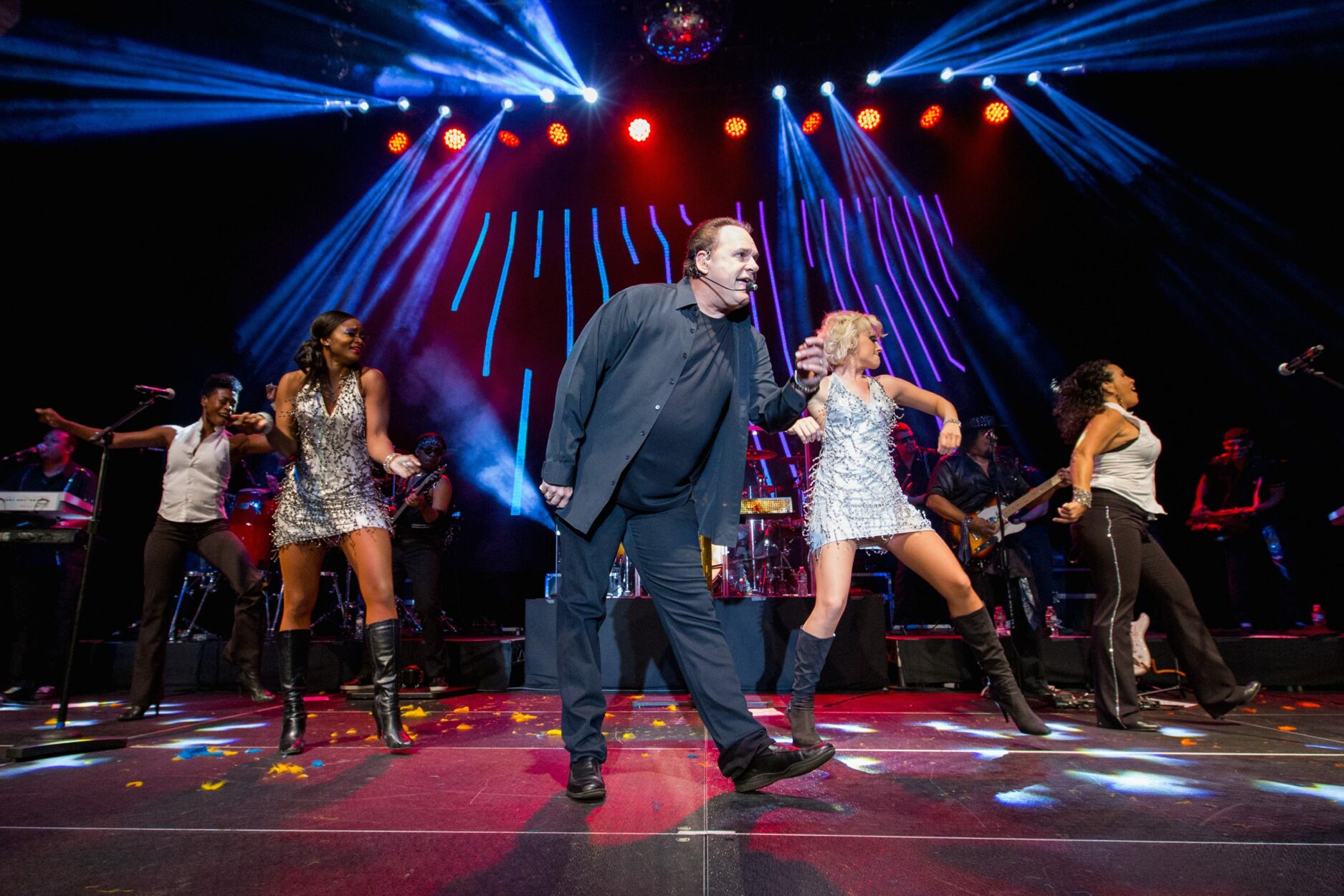 Whether you grew up in the 70s or just always wanted to get your groove on like a disco queen – we have the event for you!  Get ready to "Shake Your Booty" at our Summer '70s Dance Party with 70s legends KC and the Sunshine Band!  Come early and enjoy classic 1970's drinks and FREE hors d'oeuvres in the lobby.  Pull on your bell bottoms – BEST 70's outfit for a chance to win a prize!  KC and the Sunshine Band will be performing ALL of their greatest hits including "Get Down Tonight," "That's The Way (I Like It)", "I'm Your Boogie Man," "Keep it Comin' Love," "Shake Your Booty" and many, many more! The Ridgefield Playhouse and Pepsi Rock Series bring these disco icons to the stage on Sunday, July 31 at 8 p.m.  This feel-good show is in partially underwritten by Hastings, Cohan & Walsh LLP and Nutmeg Livery Services.  KC and The Sunshine Band will get you out of your seats and moving, but first head over to Baily's Backyard for dinner and receive 10% when you show your tickets.  KC and the Sunshine Band are a featured artist of media sponsor WEBE 108fm.
Over a career that spans more than 40 years, KC and The Sunshine Band has achieved three triple platinum albums, three GRAMMY® Awards, (including Album of the Year for the Saturday Night Fever soundtrack), an American Music Award. They became the first act since The Beatles to score four No. 1 pop singles in one 12-month period in 1976. Their unique meeting of Caribbean, pop, R&B and Latin inspired infectious grooves and their distinctive Sunshine Sound, impacting the world over and teaching them how to boogie. The band's infectious sound has given life to countless ad campaigns, hundreds of movie soundtracks and numerous television shows, including the BBC's Strictly Come Dancing in 2014. In 2001, KC was honored with the National Association of Recording Arts and Sciences Governor's Award, the highest honor given by a chapter of the Academy. KC and The Sunshine Band has defined dance music and forever influenced music with its timeless sound and mission of getting people out of their seats to celebrate, which is still being fulfilled today.
KC and The Sunshine Band's music has been featured at EVERY major sporting event in the world including the Super Bowl, World Series, Conference Championships, The NBA, Collegiate Bowl Games National Championship Games, the NASCAR racing Circuit and Championships, The World Cup, The Indianapolis 500, The Kentucky Derby, EVERY Holiday Parade include the famous Macys Thanksgiving Day parade, and the Tournament of Roses Parade, Political Party Conventions, Presidential Campaigns and nearly EVERY wedding, confirmation, and  bar mitzvah in the world!  Their music has also been featured on more than 200 motion picture film soundtracks. Harry Wayne Casey, better known as the founder and leader of KC and The Sunshine Band, has been called the "Founder of the Dance Revolution."
KC's music is now being sampled by rappers, and whole new generations of fans have been introduced to his music.  Harry Wayne Casey, a true icon of so many generations, gets people up and dancing, making everyone happy, his place at the top in the music world is secure and that is as it should be.  KC and the Sunshine Band have been entertaining audiences around the world for over 37 years, and have sold in excess of 100 million records and "That's The Way They Like It" uh-huh uh-huh!
For tickets ($125), call the box office at 203-438-5795, or visitridgefieldplayhouse.org.  The Ridgefield Playhouse is a non-profit performing arts center located at 80 East Ridge, parallel to Main Street, Ridgefield, CT.