Premier Weight Loss/Medical Spa in Harrison, NY launches state-of-the-art technology that combines low-level laser therapy and vacuum massages to shrink your waist
Harrison, NY, April 30, 2015 – NY Health & Wellness, a premier medical spa and weight loss facility, is ready to unveil the LiLa iLipo Ultra 8 Paddle Body Contouring and Cellulite Reduction device, the latest innovation in the health and wellness revolution. This treatment safely and effectively reduces measurable inches from targeted problem areas such as the abdomen or waist. Clients who undergo the full 8 treatments can expect to lose approximately 2-4 inches from their waistline, equivalent to a loss of two to three dress sizes for women. Each treatment yields instantaneous results with no associate downtime whatsoever. Treatment packages are now available only at NY Health & Wellness: call 914-703-4811 or visit www.nyhealthandwellness.com for additional information.
"This is a revolutionary advance in the science of staying young," says Mitch Suss, founder and CEO of NY Health and Wellness.  "There is no post-treatment downtime, and clients are free to resume their typical lifestyles. It is recommended though, that users stay hydrated. Utilizing the LiLa Ultra 8 along with a balanced lifestyle will ensure optimal results, not only aesthetically but internally as well. "
Clients report that the treatments are "painless" and "completely comfortable." One client, Eric Israel from Sandy Hook, CT, said that the treatment felt like a "heating pad on a low setting." Clients also agree that results are instantaneous. Mr. Israel saw a cumulative reduction of 3.5 inches from his abdomen after just one treatment.
The first 10 minutes of each Lila iLipo Ultra 8 inch loss treatment requires clients to lie down as the laser-emitting paddles are wrapped around the targeted area (e.g. the abdomen). The Paddles emit a painless cold red laser that noninvasively causes the fat cells to release their triglycerides into the bloodstream. By releasing these triglycerides, which are comprised of fatty acids, glycerol, and water, fat cells are effectively emptied of their contents. This process is very similar to conventional weight loss, with the advantage of being able to directly target your problem areas.
The cellulite reduction process uses vacuum massages and infrared skin tightening to target fatty deposits, enhance lymphatic drainage, and promote skin renewal. The vacuum massage enhances circulation around the targeted area and removes toxins from fat build ups. This, combined with the infrared laser treatment, promotes collagen growth and results in slimmer, tighter, and smoother looking skin. The vacuum massage is typically described as feeling like a deep tissue massage and has been said to provide "a pleasant feeling."
NY Health and Wellness then offers a state-of-the-art whole body vibration technology after each treatment. This technology provides a 10-minute cardio workout, causing the body to process and remove the triglycerides that are now moving through the body. At the end of this stage, significant amounts of fat have been purged from the bloodstream and metabolized..
The inch loss is a result of the fat that has been processed through the utilization of this technology. Assuming that users maintain a healthy lifestyle, the burned fat is permanently removed from the body. Users who commit themselves to a healthy diet and exercise will see long-term results.
NY Health & Wellness is a new 6,000 square-foot weight loss and medical spa, offering science-based programs and treatments that outsmart the aging process and elevate the wellness-consciousness of women and men seeking to restore their energy, lose weight, manage stress, improve their level of fitness and nutrition, and achieve a greater sense of overall health and wellness. NY Health & Wellness is founded on the principle that particularly in midlife, weight-loss management, hormone optimization, vitamin therapy, nutrition and other advanced integrative approaches to healthcare provide the keys to unlocking the secrets of perpetual wellness. Other premier services include the Balance 3-H and HCG Diets for fast and significant weight loss; the "Perfect Balance Botox" technique invented by celebrity cosmetic dermatologist Dr. Adam Mauer, along with top-line dermal fillers and non-surgical facelifts;  personal chef services and meal preparation consultations; and MD Ultraderm,  NY Health & Wellness' new scientifically-developed skin care line with doctor-endorsed anti-aging solutions designed to restore and rejuvenate the skin.  www.nyhealthandwellness.com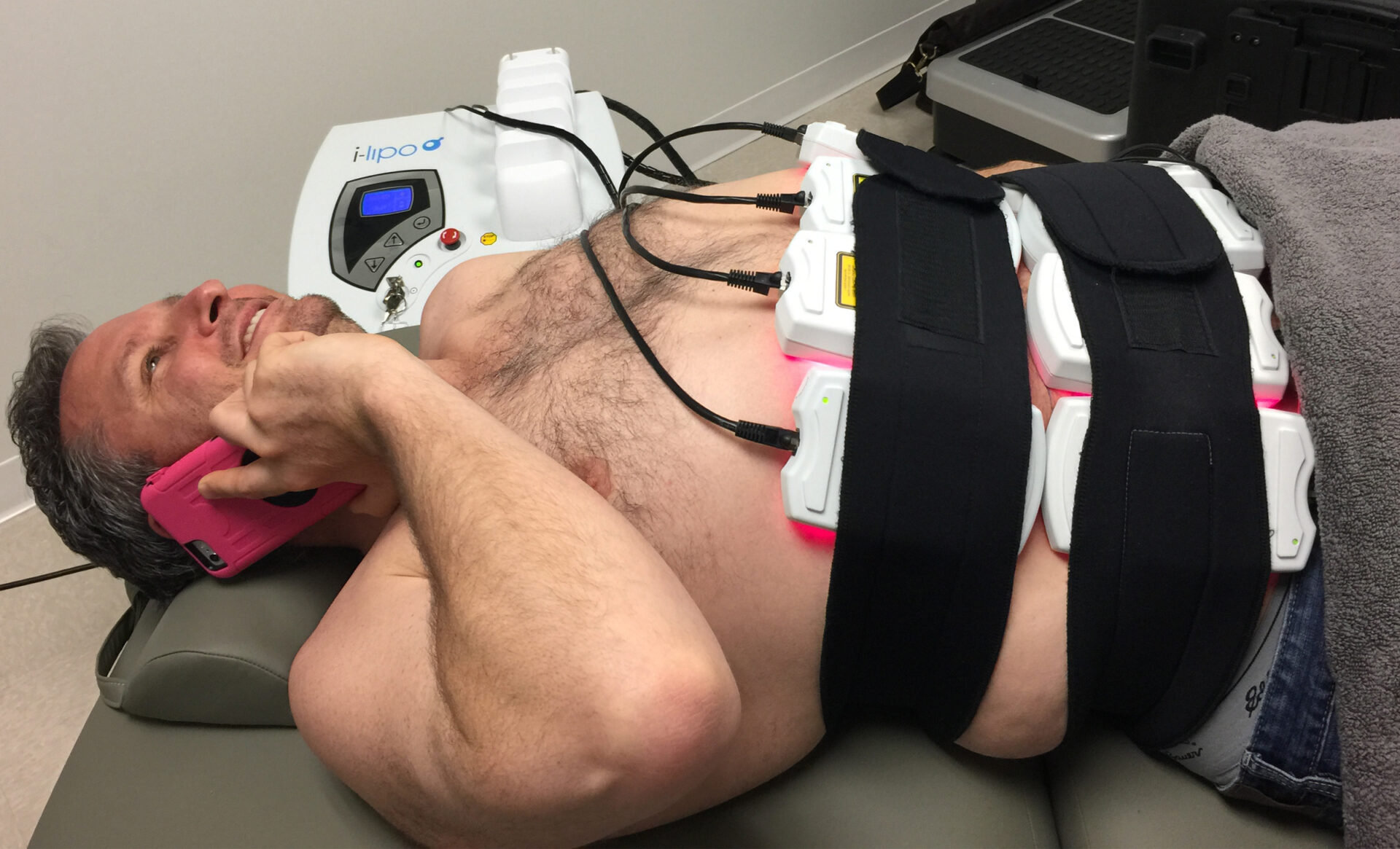 CAPTION: Eric Israel of Sandy Hook, CT relaxes on the phone while he loses 3.5 inches at NY Health & Wellness during his fat reduction treatment!