Come join us to meet author Gianni Russo for a book talk and signing! A no-holds-barred account of a life filled with violence, glamour, sex—and fun.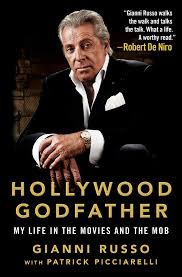 Russo added, "My life would make a great movie, but it is wilder than what anybody's seen on screen."

For instance: "Marilyn [Monroe] was the best lover," Russo recalled. "She just wanted to please you."

Actor Gianni Russo says Marilyn Monroe's death was orchestrated by Robert Kennedy to hide her involvement with John F. Kennedy

Gianni Russo, who played Carlo Rizzi in "The Godfather", details Marilyn Monroe's death in his upcoming book, "Hollywood Godfather: My Life in the Movies and the Mob".

The 75-year-old claims he had an on-and-off affair with the Hollywood legend, Monroe, beginning when he was 16 and she was 33.
Tuesday, March 19th at 7 p.m.
Barnes and Noble
Eastchester NY