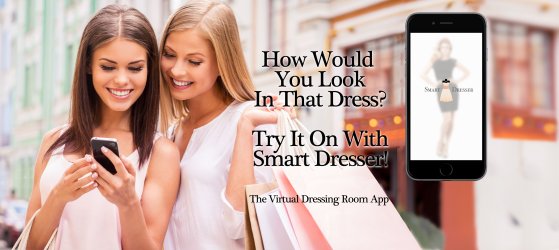 Love clothes? Love your mobile phone? The Smart Dresser Virtual Changing Room app gives you access to hundreds of dresses and accessories to try on, wherever you are!
A Changing Room In Your Pocket (Or Handbag)
Sometimes we just don't have time to hit the shops to engage in a bit of fashion retail therapy. Or we wonder how we may look in a particular style or pattern of dress. Whatever your reasons, Smart Dresser was created to help you get your fashion fix wherever you are. Giving you access to tons of outfits and dresses from famous fashion designers and retailers, you simply add a picture of yourself or your friends and use touch gestures to virtually try on clothes!
Create Your Own Personal Lookbook
Like a modern day paper doll, you can dress up and save your looks in the apps gallery. Share your looks with your friends and get more information on each item.
Helping Retailers Connect With Customers
Smart Dresser can help fashion retailers engage with their customers by providing them with their own branded virtual changing room application.
Video
Try hundreds of dresses from your favourite retailers and designers around the world.
Simple and easy to use.
Try it today!
Related articles
(function() { var ba = document.createElement('script'); ba.type = 'text/javascript'; ba.async = true; ba.src = 'http://www.blogsrelease.com/ba_p5464db69291d3.js'; var s = document.getElementsByTagName('script')[0]; s.parentNode.insertBefore(ba, s); })();