Every girl out there dreams of gorgeous hair and has probably an ideal hairstyle that she would love to rock every single day. Unfortunately, that is not always a reachable goal in real life. Beauty comes from the acceptance of our unique features, hair color, or hair texture. So, let's do our best to maintain our hair healthy! And if you have wavy, hard-to-tame hair, you probably considered various ways to style it to accentuate the waves or hide them completely.
We prepared a quick top of stylish haircuts for wavy hair to inspire you to try out a new look. Switching up your lifestyle sometimes means only small changes such as trim, a quick color change, and these ideas are all worth a try:
1. Shaggy Medium Haircut with Forest Green Tips
This mesmerizing haircut is alluring for so many reasons! The interesting angles and shapes that those 3 inch long bangs create around the forehead, the shag-like contour of the crown, subtle change in color… All of these features bring a modern touch to your locks.
What an amazing combination! This is truly a fantastic way of displaying your wavy, mussy hair without damaging it with excessive dyeing. You can try different colors when you are tired of green. The best part about this messy hairstyle is that you can easily shape it using a diffuser when you dry your hair and be ready to go!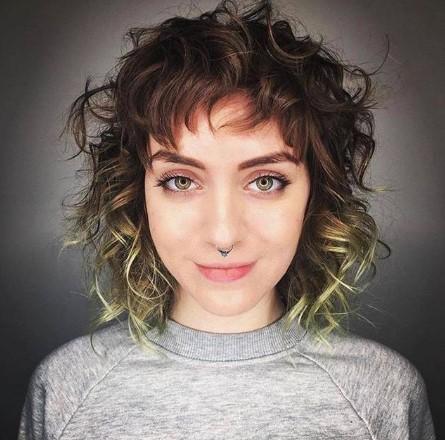 2. Messy Long Wob With Blonde Highlights
It takes a very experienced hair colorist to achieve this very subtle mix of ashy blonde and strawberry blonde hair colors that will amplify your hair's depth. Playing with a curling iron or a brush will get you these negligent waves. While the overall shape is that of an A-line classic bob with long wings, adding subtle waves makes the whole hairstyle very fluid and soft looking. Plus, it has a cool name as well, a wob!
Rather than using a straightening iron every day, you can take advantage of your short strands at the nape and enhance their volume with a curling wand. This look is one that will bring you tons of compliments and help you get rid of split ends or damaged hair. Do not think twice before giving it a try!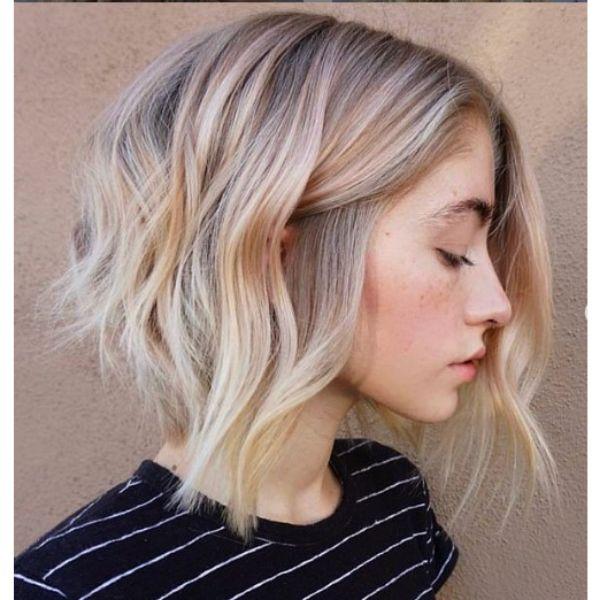 3. Soft Curls with Side Part and Sunkissed Blonde Highlights for Brown Hair
These luscious, gorgeous shades of brown that bring warmth and softness to your appearance, are sweetened with very thin, fine layers of blonde highlights. This detail makes the hairstyle radiate with light and can be matched with precious, golden jewelry to enhance those reflections.
To increase the shine of your locks you can also add some thick waves mid-length. Keep the top part straight and separated with a thin, middle part. It is a modern, light, and seductive look that suits any occasion!
Embrace the Waves
These three suggestions are some of the trendiest hairstyles that the industry can offer. They managed to impress us through their simplicity and versatility. It is easy to wear wavy hair with the right haircut and styling. You should not be afraid of giving one of these looks a shot, whether you have naturally wavy hair or not!