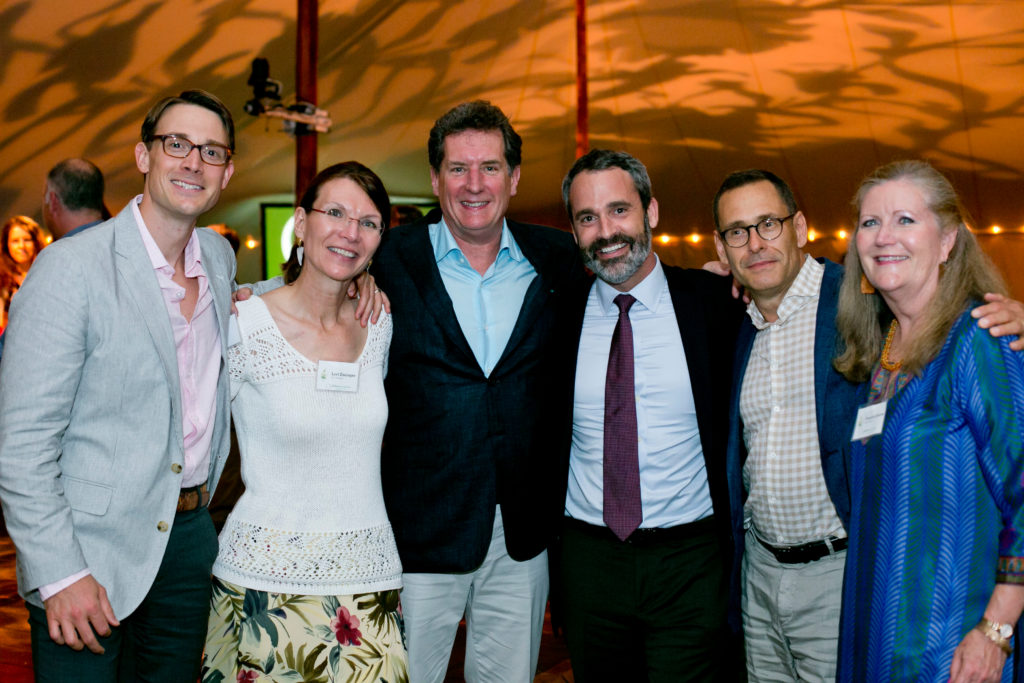 More than 300 guests gathered in Bedford Hills at the beautiful Sugar Hill Farm on June 17th for dinner, dancing, and another highly anticipated live auction, to celebrate Westchester Land Trust's (WLT) continued conservation efforts in the region. WLT welcomed an exciting mix of supporters—both long-standing and brand new—who came together to honor Women in Conservation: Susan Carpenter with the Lifetime Achievement Award and Norma Silva and Aimée Whitman with Preservation Angel Awards.
The event, Celebrating Women in Conservation, paid tribute to the many varied contributions of three women who have been key to WLT's success in achieving its mission over the past 29 years. Bruce Churchill, Chairman of the Board of Westchester Land Trust, acknowledged this in his remarks saying, "Many of you here tonight undoubtedly associate Westchester Land Trust with the beautiful expanses of woodlands, farms, wetlands, and meadows that we see through much of the county. Achieving these results may look effortless because the land remains just as it always was. But these projects can take years to complete, and it is the unsung behind-the-scenes work of these three women that helped make it all happen."
Thanks to the generosity of event hosts, Carol and Frank Nickell, WLT was able to arrange for beautiful Sperry tents to be placed in the meadow next to WLT's Sugar Hill Farm. Guests were able to enjoy the surrounding land's natural beauty, as well as the native meadow, and the organic gardens at WLT's headquarters.
Benefit board liaison Beth Crowell (Bedford) led a robust and engaged committee who built on the work of last year's event visionaries: Robin Ashley (Bedford), Liza Clymer (Katonah), and Melissa Marcogliese (Pound Ridge) ensuring that every detail of this year's event was impeccable. Watson's Catering of Greenwich, CT conceived a delectable menu featuring the early season bounty of several local farms and producers including Sugar Hill Farm. A new educational video about the importance of the work done by WLT—also titled Women in Conservation—was premiered for the first time and kicked-off a decidedly entertaining live auction and paddle raise led by charismatic Bedford-native, and son of honoree Aimée, Cutler Whitman.
Among those who attended Celebrating Women in Conservation were New York State Senator George Latimer, Bedford Town Supervisor Chris Burdick, and Lewisboro Town Supervisor, Peter Parsons. Also in attendance were Andrew Bowman, President of the Land Trust Alliance, and leadership from Groundwork Hudson Valley, Putnam County Land Trust, Somers Land Trust, and Teatown Lake Reservation.
Funds raised through the Annual Benefit support WLT's efforts to protect environmentally significant land and to steward and manage the 29 public preserves it owns.
ABOUT WESTCHESTER LAND TRUST
Based in Bedford Hills, the Westchester Land Trust works with public and private partners to preserve land in perpetuity and to enhance the natural resources in Westchester and eastern Putnam counties—a densely populated region under persistent threat from the pressures of development. Through the use of conservation easements and outright acquisition, WLT's efforts benefit the long-term health of these communities by safeguarding air quality, food supply and community character, as well as critical watershed areas. Since its founding in 1988, WLT has preserved almost 8,000 acres of open space including more than 700-acres of preserves owned by the organization which are free and open to the public year round.
For more information about WLT, please visit westchesterlandtrust.org and connect with us on Facebook (http://www.facebook.com/WLandTrust) and Instagram (@WestchesterLandTrust).