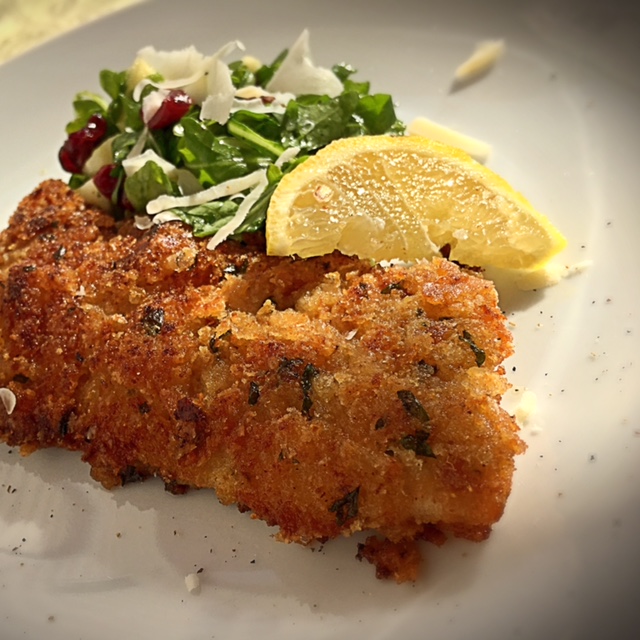 Hi, Tina DiLeo here from cheftini.com .  Wow, where has time gone?  I can not believe we're already on the cusp of Thanksgiving! So much time has passed since I have been able to share a new recipe here on StacyKnows, but I am so glad to finally be back and sharing this #winning Pork Cutlet Gremolata recipe….
If you are like me, you might be looking for new ways to change up your typical pork chop or in this case pork cutlet dinner.  If you are then I have got the recipe for you.  It is a pork cutlet which is first coated in greek yogurt and Dijon mustard before it is dipped in a fresh breadcrumb and parsley mixture.  Once it has it's flavorful coating it is sauted to create a crispy coating.  Usually, depending on the thickness of the meat, I like to pop the cutlets into a pre heated oven for about  5-7 minutes before serving.  
If you like to meal prep for the week or earlier in the day, you can (and should) make these in advance to help keep the bread crumbs adhered to the cutlets.   You can still achieve the same outcome if you are short on time, but refrigerating for a bit and letting the breadcrumbs set does help.  No matter how long you let them set, however, be sure not to flip them over too soon or the breading may come off. 
This recipe does call for homemade bread crumbs. But even if you don't have bread to make into crumbs, you can use panko or another plain breadcrumb for the coating. Either way you will add the Gremolata for flavor and be all set to go.  If you don't know, "Gremolata" is an Italian garnish or topping that is made from fresh chopped parsley, garlic, and lemon zest. My recipe does deviate slightly from a traditional gremolata because I use garlic powder in place of fresh garlic (to prevent burning) but it still brings that same tangy pop of fresh flavor to the dish.   
I just love the explosion of flavors in this dish and I think you will too.  Serve these cutlets with your favorite greens. I like the flavor combination of an arugula and cranberry salad with a simple lemon-pepper vinaigrette. Alternatively, you could try this recipe with lamb chops or chicken breasts.
And as I always say, please feel free to use this recipe as a guide and make this dish your own.  Happy Cooking and Enjoy!
Ingredients:
6 Pork cutlets (or 1/4" thick boneless chops)
2 Tbsp. Dijon Mustard
2 Tbsp. Plain Greek Yogurt
3 cups of fresh/plain/Panko bread crumbs (crusty bread is best for fresh bread crumbs)
1/4 cup fresh Italian parsley, chopped
Zest from 1 lemon
1 Tbslp. Garlic Powder
Salt & pepper to taste
3-4 Tbslp. of Canola or Olive oil
Directions:
Preheat oven to 400 degrees F.
In shallow bowl combine breadcrumbs, parsley, garlic powder, lemon zest, salt and pepper.  

In a separate bowl, combine mustard and greek yogurt.  Using a pastry brush, coat each cutlet(or chop) with mustard/yogurt mixture. Dredge both sides of meat into bread crumb mixture.  After each cutlet is fully coated cover and set in the refrigerator for 30 minutes if possible.

In a large oven safe skillet heat oil and sauté the cutlets on each side until golden brown. 

Place into the pre heated oven for an additional 5-10 minutes (or until the thickest cutlet/chop registers at 145 degrees with a meat thermometer). 

Remove from the oven and let rest for a few minutes before serving.
For more about Tina and her recipes please visit her webiste Cheftini
Connect with Tina @cheftini on Instagram and Twitter