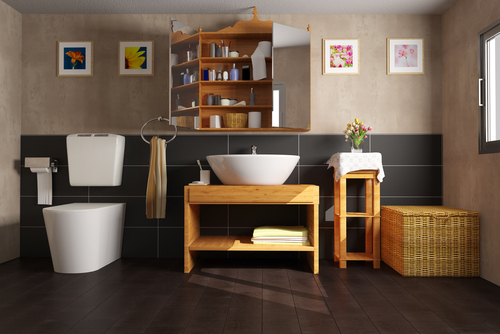 How long does it take you to get ready each morning? Part of the amount of time it takes depends on whether or not you're a morning person, but the other part depends on the design of your bathroom.
That's right: the way your bathroom is designed has an impact on how long it takes you to get ready for your day. According to a study conducted in 2012, 56 percent of Americans take between 11 and 30 minutes to get ready.
Let's imagine that people lean closer to 30 minutes. 30 minutes, seven days a week equates to three hours and 30 minutes a week. For almost four hours a week, you are in the bathroom brushing your teeth, mussing your hair or putting on your face. Might it take you longer to get ready in the mornings because the vanity countertop isn't big enough to hold your makeup bag and hair straightener? Maybe you have to wait for your partner to finish getting ready before you can because the bathroom is too small to support the both of you at the same time.
You deserve a space where you can get ready in peace. Here are a few ways you can update your bathroom to accommodate your needs.
Install an integral bathroom sink
Just like in the kitchen, counter space is everything in the bathroom. Without sufficient counter space, we can't use the bathroom to its full potential. To make the bathroom more user-friendly, Better Homes & Gardens recommends installing an integral bathroom sink. This will provide the extra counter space necessary to get ready in the mornings and will make for easy cleaning because of the undermount sink.
Install bathroom cabinets
A significant issue we have with bathrooms is the lack of storage space. Because there is so little, we tend to cover every surface of the countertop and stuff the single shelf under the sink (if we're lucky enough to have one) with cleaning supplies, towels and other hygiene products. How many times have you reached under the counter for a new razor just to knock down the bleach and Clorox wipes? Not only is this frustrating, but cleaning up the mess eats up what little time you have left to get ready.
Installing cabinetry will give you the storage you need to properly put away and house all of your bathroom and hygiene essentials. You can install the cabinets under the sink or against the opposite wall.
Install wall lights beside a large vanity mirror
Another problem with getting ready in the morning is the lack of sufficient lighting. It sucks discovering what looked like a great cat eye in the bathroom mirror actually looks like last night's slept-in makeup at work.
To avoid snafus like this, your bathroom lighting will need to be made up of an overhead light and two wall sconces flanking your vanity mirror. The bathroom lighting will reflect off the mirror, making everything more bright and easier for you to see this morning's oatmeal stuck in your teeth!
Install a hair/makeup accessory rack
A major reason the bathroom feels cramped is because (and as mentioned earlier) we have all of our junk sitting on the countertops. Our makeup, hair gel, curling iron, crimper, straightener, toothbrush, toothpaste, mouthwash—it's really a wonder that we're able to use the sink.
To clear your surfaces and take your bathroom back, install a makeup/accessory rack at the side of the vanity. This will make it easy to pull out whatever you need as you get ready for the day and even easier to put away when you're all done!
There's a lot of little things we can do that'll improve our morning routines. Revamping the organization and look of the bathroom is most definitely one of them!