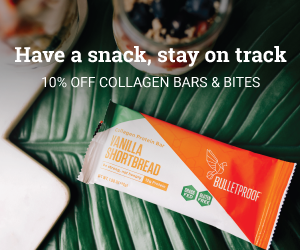 Cravings can still happen… After all, old habits die hard, and we're only human–especially if you're retraining your brain to make better choices.

And when you're already hungry, it's far easier to cheat…

But with healthy and portable snacks at the ready, your line of defense is much stronger…

And Bulletproof Collagen Protein Bars and Bites are made just for that purpose.

Just have one whenever a craving strikes, or whenever you need a little something to tide you over until your next meal. You'll feel satisfied for hours.

That's because most "healthy" snacks are either loaded with sugar and carbohydrates or taste like cardboard–but not these…

With quality protein and fat from Collagen Protein Powder and Brain Octane oil, along with all natural chocolate, vanilla, and lemon flavors, these bars taste delicious and never fail to satisfy.

No matter how you enjoy them, these bars and bites are the perfect size for stashing in your desk, handbag, lunchbox, or backpack.

Pop them in the refrigerator or freezer for firmer texture (It won't alter their nutritional value)
Crumble them up as a garnish for desserts like Bulletproof Ice Cream
Blend in a smoothie to pack that extra punch
Offer them as after-school snacks (kids love them!)
Take with supplements when food is required instead of eating a full meal
And with three flavors to choose from–Fudge Brownie, Vanilla Shortbread, and Lemon Cookie–you won't get stuck in a snacking rut.


What People Are Saying…

This box isn't going to last long! They are SO good! The ingredient list is packed with nothing but awesome ingredients also. Will definitely be ordering again 🙂
–Ashley G.

Allergies to gluten, dairy, soy and eggs makes finding a good on the go energy snack difficult. These bars my favorite. I eat one before I paddle or surf for plenty of energy.
–Sherry

This product is to die for. I could eat 10 at a time. Though, unlike many other 'healthy' bars on the market, the incredible taste doesn't completely zap your willpower. Normally, when I eat something this tasty, I overdo it and eat five. These give me the perfect pick me up without the loss of self control.
–Torrance